Introduction to Biblical Literature
This webpage and its linked resources provide open educational materials for studying the Bible.
The "Introduction to Biblical Literature" course covers the entire Bible in a single semester, aiming to combat biblical illiteracy.
Students in he course are assigned Bible study sheets, crossword puzzles, map assignments, and other tasks to deepen their understanding of the Bible.
This webpage offers supplementary materials such as powerpoints, audio/video resources, memory quizzes, and study guides to enhance the learning experience.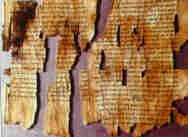 Photo of fragments of one Dead Sea Scroll
Open Educational Resources
This page and the resources linked from it are Open Educational Resources (OER)
"Then he opened their minds so they could understand the Scriptures." — Luke 24:45
"Bib-Lit", as Introduction to Biblical Literature came to be called on the Southern Nazarene University campus, is a one-semester all-the-way-through-the-Bible course that aimed to stamp out biblical illiteracy!
In this entry-level course I tried to give students a grasp of basic Bible facts in chronological order.. We met 80 Bible characters and looked at 15 key chapters. We learned at least one phrase about the content of every Bible book. By the end of the course, students were writing the entire story of the Bible in one page.
" I stumbled across your internet pages on the Bible. I needed to get back to basics and this helps. Thank you." -- Dan C., Florida
Class resources including assignments, due dates, and exam study guides
What Nazarenes believe about the Bible:
"We believe in the plenary inspiration of the Holy Scriptures, by which we understand the 66 books of the Old and New Testaments, given by divine inspiration, inerrantly revealing the will of God concerning us in all things necessary to our salvation, so that whatever is not contained therein is not to be enjoined as an article of faith.
(Luke 24:44 47; John 10:35; 1 Corinthians 15:3 4; 2 Timothy 3:15 17; 1 Peter 1:10 12; 2 Peter 1:20 21)
-- Articles of Faith, Church of the Nazarene
"All scripture is God-breathed and is useful for teaching, rebuking, correcting and training in righteousness" -- 2 Timothy 3:16
Helps for Bible study
As you get deeper and deeper into the Word, you'll find the following of help:
Bible concordance

Alphabetical listing of words in the Bible with the verses in which they appear. Several concordances or Bible search engines can be found online.

Bible dictionary

Alphabetical arrangement of explanations of Bible history, culture and general contents

Bible encyclopedia

Similar to a Bible dictionary with an alphabetical listing of topics and explanations. Covers more territory in greater detail than does a dictionary

Bible atlas

Geographical and topographical information on Bible lands, including geopolitical boundaries

Bible commentary

Scholar's comments on the meaning of the text of the books of the Bible, often verse by verse. Commentaries often are multi-volume sets
What will you get out of this BibLit course?
Student comments from previous semesters:
"It helped me learn more about things I thought I knew."
"I read more of the Bible than I ever had before."
"I was exposed to stories in the Bible that I hadn't read before."
"We took 'field trips' that were very helpful."
"It brought the Bible to life."

Do you read novels? Then, let James Michener bring alive for you the drama of Israel's turbulent past in his novel The Source. Michener is a marvelous story teller. In this 1965 book, Michener uses historical fiction to bring Israel's past eras to life. The focal point of the novel is an archaeological dig at Tell Makor, an imaginary mound that is the accumulated residue of abandoned settlements, each resting on the ruins of its predecessor.
I don't agree with all of Michener's assumptions and theological conclusions. However, the book is great reading in terms of helping one sense the drama of biblical events.
Writing
standards
Most courses at SNU contain a writing component.
I expect students to produce written work that is focused, well developed, organized and relatively free of grammatical, punctuation, and spelling errors.
Papers falling short of this standard will not be graded. That work will be returned to the students for further revision and resubmission.
See my writing checklist.
Ready for a light-hearted moment?
| | |
| --- | --- |
| | As we jump into the course, would you like a chuckle? [ more ] |
Great sermon ideas from Professor Marty Michelson
"Your word is a lamp to my feet and a light for my path" -- Psalm 119:105
-- Howard Culbertson,
You might also like