Bible crossword puzzle: 1 and 2 Timothy, Titus, and Philemon
Based on material in chapter 28 of Discovering the Bible by Alex Varughese, textbook for Introduction to Biblical Literature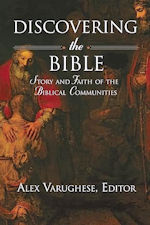 Challenge: Can you solve the puzzle even if you do not have the book by Varughese?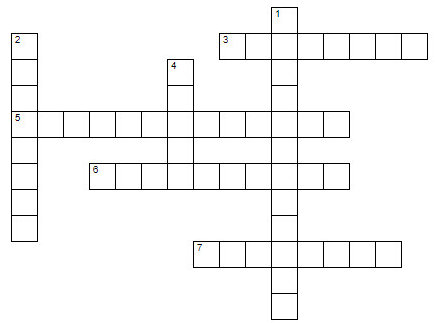 ACROSS
3 -- Letter to an influential and wealthy person in the city of Colossae concerning a runaway slave who became a Christian after coming into contact with the Apostle Paul
5 -- A letter Paul composed shortly before his martyrdom during the reign of Nero. In this letter, Paul uses the metaphors of a faithful soldier, a dedicated athlete, and a hard-working farmer. He exhorts the recipient to remember, to hold on to firmly, to guard the faith and to never compromise with those who are opponents of the true faith
6 -- One of the strange beliefs against which Paul seems to be writing in First Timothy
7 -- What the letters to Timothy and Titus are often called since they address issues related to congregational life within the churches where these two men were serving as pastors or leaders
DOWN
1 -- A letter with a lengthy discussion of the duties of church leaders
2 -- A runaway slave on whose behalf Paul appeals to his owner to take him back and treat him as a "dear brother"
4 -- Letter which Paul writes to the leader of the church on the island of Crete. It gives instructions as to the qualifications of church leaders and spells out what is acceptable behavior for all age groups within the Body of Christ.
This crossword puzzle was created for use in the course Introduction to Biblical Literature. The words and clues come from the textbook Discovering the Bible: Story and Faith of the Biblical Communities edited by Alex Varughese and published by Beacon Hill Press of Kansas City, now called The Foundry.
-- Howard Culbertson,
Brief overviews of Bible books ad meditations
More Bible crossword puzzles
Chapters 1-2 | Chapters 4-5 | Chapter 6 | Chapters 7-8 | Chapter 9 | Chapter 10 | Chapter 11 | Chapter 12 | Chapter 13 | Chapter 15 | Chapter 16 | Chapter 17 | Chapter 18 | Chapter 19 | Chapter 20 | Chapter 21 | Chapter 22 | Chapter 23 | Chapters 24-25 | Chapters 26 | Chapters 27 | Chapters 29-30 | Chapter 31 | Chapter 32 | Supplementary puzzles
You might also like these