Bible crossword puzzle: Romans, 1 and 2 Corinthians and Galatians
Based on material in chapters 24 and 25 of Discovering the Bible by Alex Varughese, the textbook for Introduction to Biblical Literature
Challenge: Can you solve this puzzle even if you do not have the book by Varughese?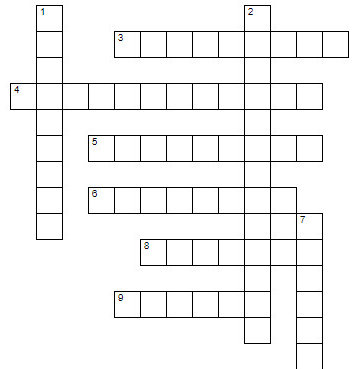 ACROSS
3 -- A lady from Corinth who, along with her husband Aquila, became a companion in ministry with Paul
4 -- A man who turned Paul's emphasis in Romans on justification by faith into a key principle of the Protestant Reformation
5 -- People who went around trying to persuade churches that Gentile converts had to become completely Jewish to be truly Christian
6 -- The Old Testament prophet whose words "the just shall live by faith" were used by Paul as a foundation for his case about salvation by grace when he wrote a letter to the church in Rome
8 -- A city in which a troubled and divided church was struggling with great moral issues
9 -- Paul's letter whose teachings about sin and salvation profoundly changed the lives of Augustine, Martin Luther and John Wesley. It is also a letter in which Paul tries to convince a congregation to support his hope of going to Spain to evangelize
DOWN
1 -- A letter addressed to a church which had Gentile believers who were under heavy pressure to become Jewish in their belief, behavior and practice
2 -- A major theme in Paul's letter to the Romans; it is an attribute (characteristic) of God that is essential to understanding God as a holy God
7 -- A member of the church at Cenchrea near Corinth; this person may well have been the one who delivered Paul's letter to the Romans to that congregation in the empire's capital city
This crossword puzzle was created for use in the course Introduction to Biblical Literature. The words and clues come from the textbook Discovering the Bible: Story and Faith of the Biblical Communities edited by Alex Varughese and published by what is now called The Foundry.
"For through the law I died to the law so that I might live for God. I have been crucified with Christ and I no longer live, but Christ lives in me. The life I now live in the body, I live by faith in the Son of God, who loved me and gave himself for me." -- Galatians 2:19-20
-- Howard Culbertson,
Brief overviews of Bible books plus meditations on various passages
More Bible crossword puzzles
Chapters 1-2 | Chapters 4-5 | Chapter 6 | Chapters 7-8 | Chapter 9 | Chapter 10 | Chapter 11 | Chapter 12 | Chapter 13 | Chapter 15 | Chapter 16 | Chapter 17 | Chapter 18 | Chapter 19 | Chapter 20 | Chapter 21 | Chapter 22 | Chapter 23 | Chapters 24-25 | Chapters 26 | Chapters 27 | Chapter 28 | Chapters 29-30 | Chapter 31 | Chapter 32 | Supplementary puzzles
You might also like these
More Bible class stuff
| | |
| --- | --- |
| | Looking for other materials related to Introduction to Biblical Literature? [ more ] |