Bible crossword puzzle: Minor prophets
Based on material in chapter 15, Discovering the Bible by Alex Varughese, textbook in Introduction to Biblical Literature
Challenge: Can you solve this puzzle even if you do not have the book by Varughese?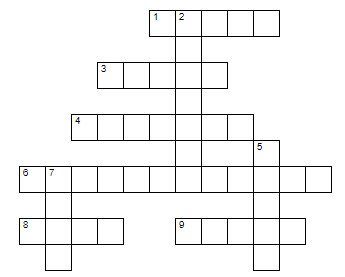 ACROSS
1 The missionary book of the Old Testament which closes with God asking the prophet if divine concern should not be shown for the people of Nineveh. God's compassion for a sinful world is a key theme in this book.
3 The prophet who says that the Messiah will be born in Bethlehem. He says that true worship is doing justice, loving kindness, and walking humbly with God.
4 Key theme of the book of Amos
6 The day when God will bring his judgment upon those who oppose Him.
8 This man is called "the prophet of Pentecost" because he foretold the outpouring of God's Spirit on all people.
9 A prophet whose own troubled marital life reveals the intense and passionate expressions of God's love, anger, agony, and despair. God is described as a forgiving Husband and a loving Father.
DOWN
2 The shortest book in the Old Testament. The author says that God will punish the people of Edom and foresees that God will ultimately bring an end to hatred and pride in the world
5 Hosea's wife
7 A shepherd who became the prophet of social concerns by advocating for justice and righteousness in the world
This crossword puzzle was created for use in the course Introduction to Biblical Literature. The words and clues come from the textbook Discovering the Bible: Story and Faith of the Biblical Communities edited by Alex Varughese and published by Beacon Hill Press of Kansas City, now called The Foundry.
-- Howard Culbertson,
More Bible crossword puzzles
Chapters 1-2 | Chapters 4-5 | Chapter 6 | Chapters 7-8 | Chapter 9 | Chapter 10 | Chapter 11 | Chapter 12 | Chapter 13 | Chapter 15 | Chapter 16 | Chapter 17 | Chapter 18 | Chapter 19 | Chapter 20 | Chapter 21 | Chapter 22 | Chapter 23 | Chapters 24-25 | Chapters 26 | Chapters 27 | Chapter 28 | Chapters 29-30 | Chapter 31 | Chapter 32 | Supplementary puzzles
You might also like these
More Bible class stuff
| | |
| --- | --- |
| | Looking for other materials related to Introduction to Biblical Literature? [ more ] |