Bible crossword puzzle: Paul and his writings
Based on material in chapter 23 of Discovering the Bible by Alex Varughese, the textbook for Introduction to Biblical Literature
Challenge: Can you solve this printable puzzle even if you do not have the book by Varughese?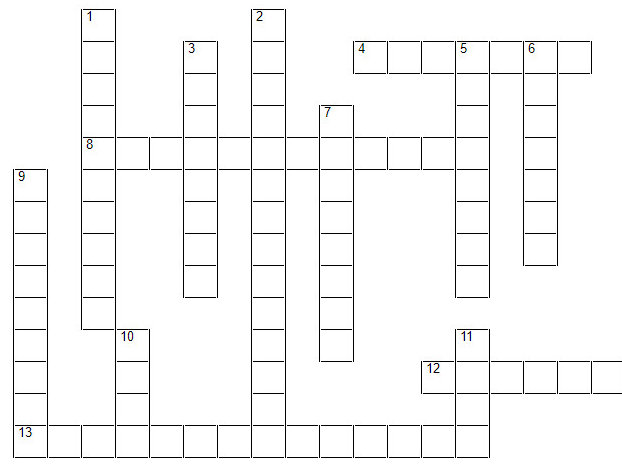 ACROSS
4 -- The man whose death by stoning was witnessed by Saul, who would later be called Paul
8 -- Writings to which Paul often refers and which thus form a foundation for his letters
12 -- Apostle Paul's hometown
13 -- Material (including New Testament letters such as Romans, Galatians. and 1 and 2 Corinthians) about the doctrine of salvation
DOWN
1 -- Name of the prevailing Mediterranean culture that heavily influenced Paul's letter-writing
2 -- Doctrinal material (including New Testament letters such as Ephesians, Philippians, Colossians, and Philemon) about the person and work of Jesus Christ
3 -- A classroom teaching method common in the Greco-Roman world in which a teacher, anticipating a possible question or objection from students, states that objection or question and then gives a response.
5 -- The classification or type in which the letters to 1 and 2 Timothy and Titus fall
6 -- A literary work intentionally aimed at a broad readership
7 -- A well-known first-century Jewish teacher under whom Paul studied
9 -- The Jewish sect or religious group to which Paul belonged
10 -- The number of parts into which most of Paul's letters may be easily
11 -- The Apostle Paul's Hebrew Jewish name
This crossword puzzle was created for use in the course Introduction to Biblical Literature. The words and clues come from the textbook Discovering the Bible: Story and Faith of the Biblical Communities edited by Alex Varughese and published by what is now called The Foundry.
-- Howard Culbertson,
More Bible crossword puzzles
Chapters 1-2 | Chapters 4-5 | Chapter 6 | Chapters 7-8 | Chapter 9 | Chapter 10 | Chapter 11 | Chapter 12 | Chapter 13 | Chapter 15 | Chapter 16 | Chapter 17 | Chapter 18 | Chapter 19 | Chapter 20 | Chapter 21 | Chapter 22 | Chapter 23 | Chapters 24-25 | Chapters 26 | Chapters 27 | Chapter 28 | Chapters 29-30 | Chapter 31 | Chapter 32 | Supplementary puzzles
You might also like these