Bible crossword puzzle: Jesus -- The mediator of the new covenant
Based on material in chapter 19, Discovering the Bible by Alex Varughese
Challenge: Can you solve this puzzle even if you do not have the book by Varughese?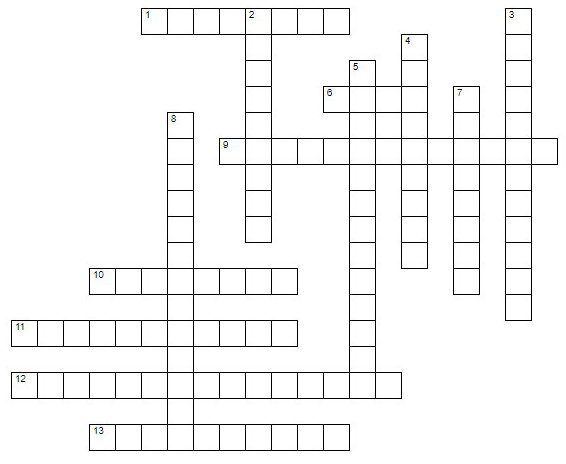 ACROSS
1 A teaching method Jesus often used to illustrate the kingdom of God
6 The Gospel that stands apart from the other three in its wording, structure and general characteristics
9 King over Palestine at the time of Jesus' birth
10 Town where Jesus grew up
11 A First Century method of execution reserved for non-Romans, revolutionaries, the lowest classes, and the most dangerous criminals
12 The way scholars label the issue of accounting for the similarities and differences between the Gospels of Matthew, Mark, and Luke
13 Greek word that means "gospel"
DOWN
2 Place where the Old Testament prophet Micah had said that the Messiah would be born
3 The son of Herod the Great who executed John the Baptist
4 The high Jewish council in Jerusalem which charged Jesus with blasphemy because He identified Himself as the Son of Man of Daniel 7:13 and had declared that He would be seated at the right hand of God and coming on the clouds of heaven
5 Roman governor who condemned Jesus to death under pressure from the Jewish Sanhedrin
7 Physical demonstrations by Jesus showing that the Kingdom of God had come
8 The label for the way in which the story of Jesus was passed on until it was finally written down
This crossword puzzle was created for use in the course Introduction to Biblical Literature. The words and clues come from the textbook Discovering the Bible: Story and Faith of the Biblical Communities edited by Alex Varughese and published by what is now called The Foundry.
-- Howard Culbertson,
More Bible crossword puzzles
Chapters 1-2 | Chapters 4-5 | Chapter 6 | Chapters 7-8 | Chapter 9 | Chapter 10 | Chapter 11 | Chapter 12 | Chapter 13 | Chapter 15 | Chapter 16 | Chapter 17 | Chapter 18 | Chapter 19 | Chapter 20 | Chapter 21 | Chapter 22 | Chapter 23 | Chapters 24-25 | Chapters 26 | Chapters 27 | Chapter 28 | Chapters 29-30 | Chapter 31 | Chapter 32 | Supplementary puzzles
You might also like these
More Bible class stuff
| | |
| --- | --- |
| | Looking for other materials related to Introduction to Biblical Literature? [ more ] |