Bible crossword puzzle 24: The letters of John
Based on material in chapter 31 of Discovering the Bible by Alex Varughese, textbook for Introduction to Biblical Literature
Challenge: Can you solve this puzzle even if you do not have the book by Varughese?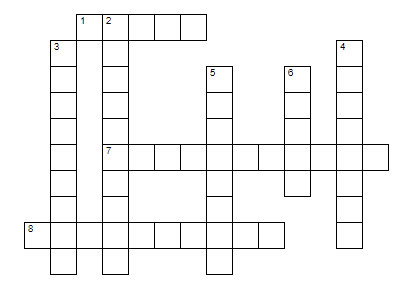 ACROSS
1 -- The person to whom Third John is addressed
7 -- A highly regarded virtue and a necessary gift for the advancement of the Early Church; a key theme of Third John
8 -- The person to whom Second John is addressed
DOWN
2 -- John understood that this person will be more than someone who fails to believe; it will be someone who, in deliberate and reasoned rebellion, denies that Jesus is the Christ and denies the Father-Son relationship
3 -- The New Testament book often recommended for a new Christian to read first. This book contrasts those who walk in the light with God and love others with those who walk in the darkness and hate their fellow human beings
4 -- A form of Gnosticism which promoted the idea that Jesus only appeared to have a human form but that He was not truly human and did not have an actual material body
5 -- The Roman emperor during the last decade of the first century. He brought great persecution on the Christians who found themselves treated as aliens in a foreign land and who also found themselves tempted by syncretism (the borrowing of religious ideas from pagan religions)
6 -- A word used in First John to mean the way of life that opposes God; a place where deceivers and the Deceiver live and rule
This crossword puzzle was created for use in the course Introduction to Biblical Literature. The words and clues come from the textbook Discovering the Bible: Story and Faith of the Biblical Communities edited by Alex Varughese and published by Beacon Hill Press of Kansas City, now called The Foundry.

-- Howard Culbertson,

?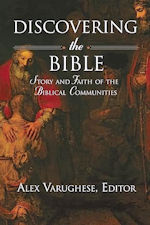 Bible book overviews and meditations
More Bible Crossword puzzles
Chapters 1-2 | Chapters 4-5 | Chapter 6 | Chapters 7-8 | Chapter 9 | Chapter 10 | Chapter 11 | Chapter 12 | Chapter 13 | Chapter 15 | Chapter 16 | Chapter 17 | Chapter 18 | Chapter 19 | Chapter 20 | Chapter 21 | Chapter 22 | Chapter 23 | Chapters 24-25 | Chapters 26 | Chapters 27 | Chapter 28 | Chapters 29-30 | Chapter 32 | Supplementary puzzles
You might also like these