Bible crossword 8: Psalms, Song of Songs and Lamentations
Crossword puzzle for chapter 12, "Songs of the Community" in Discovering the Bible by Alex Varughese
Challenge: Can you solve this puzzle even if you do not have the book by Varughese?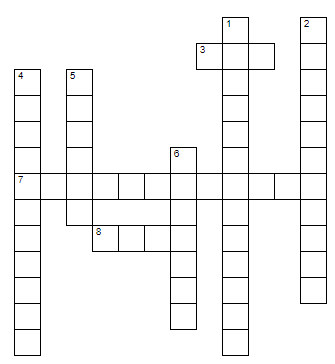 ACROSS
3 Who, rather than humanity, is at the center of the Psalms
7 A book written on the occasion of the fall of Jerusalem and the subsequent Babylonian captivity of Judah; the book (which tradition says was authored by Jeremiah) says sin was the cause of Jerusalem's destruction and is a plea for God's mercy
8 The number of sections or "books" of the Biblical Psalms
DOWN
1 Analysis of literary works according to structure
2 A book that celebrates human sexuality as a part of the love and affection shared by a married couple living out God's design
4 A basic building block of Hebrew poetry which refers to the relationship between two or more lines of verse
5 The Hebrew Bible's songbook that gives us the language with which to give praise to God and to pray to Him
6 A type of Psalm that is a cry to God for help
This crossword puzzle was created for use in the course Introduction to Biblical Literature. Words and clues come from the textbook Discovering the Bible: Story and Faith of the Biblical Communities edited by Alex Varughese and published by Beacon Hill Press of Kansas City, now called The Foundry.
-- Howard Culbertson,
Recommended Links for You
More Bible crossword puzzles
Chapters 1-2 | Chapters 4-5 | Chapter 6 | Chapters 7-8 | Chapter 9 | Chapter 10 | Chapter 11 | Chapter 12 | Chapter 13 | Chapter 15 | Chapter 16 | Chapter 17 | Chapter 18 | Chapter 19 | Chapter 20 | Chapter 21 | Chapter 22 | Chapter 23 | Chapters 24-25 | Chapters 26-27 | Chapter 28 | Chapters 29-30 | Chapter 31 | Chapter 32 | Supplementary puzzles
You might also like these
More Bible class stuff
| | |
| --- | --- |
| | Looking for other materials related to Introduction to Biblical Literature? [ more ] |