The apocalyptic visions of Daniel
Bible crossword puzzle 12
Based on material in chapter 17, Discovering the Bible by Alex Varughese
Challenge: Can you solve this puzzle even if you do not have the book by Varughese?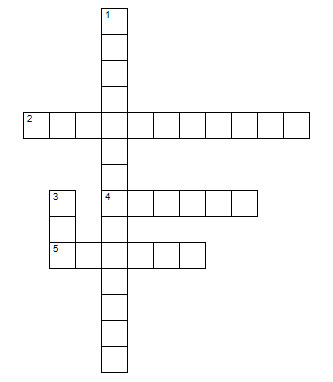 ACROSS
2 The kind of writing that deals with the future and especially the end of human history
4 This Bible book contains stories about a fiery furnace and a den of lions. Much of the book is apocalyptic.
5 One way which people in the ancient world understood that gods communicated with people
DOWN
1 Babylon's most prominent and powerful monarch
3 According to Daniel, the one whose Kingdom will never be destroyed and who "wins" in the end
This crossword puzzle was created for use in the course Introduction to Biblical Literature. The words and clues come from the textbook Discovering the Bible: Story and Faith of the Biblical Communities edited by Alex Varughese and published by Beacon Hill Press of Kansas City, now called The Foundry.
Takeaways from the Book of Daniel
The Book of Daniel can be divided into two sections. The first six chapters narrate Daniel's experiences in the Babylonian court, including his interpretation of dreams and his deliverance from a lion's den. The last six chapters are mainly apocalyptic visions and prophecies.
One of the notable stories in Daniel is the account of his three friends -- Shadrach, Meshach, and Abednego -- who refused to bow down to a golden statue erected by King Nebuchadnezzar. Thrown into a fiery furnace, the three young men were protected by God.
The faithfulness, courage, and trust in God, even in the face of persecution, that we see in Daniel have made the book a source of inspiration for God's people.
-- Howard Culbertson,
More for you on Daniel
More Bible crossword puzzles
Chapters 1-2 | Chapters 4-5 | Chapter 6 | Chapters 7-8 | Chapter 9 | Chapter 10 | Chapter 11 | Chapter 12 | Chapter 13 | Chapter 15 | Chapter 16 | Chapter 17 | Chapter 18 | Chapter 19 | Chapter 20 | Chapter 21 | Chapter 22 | Chapter 23 | Chapters 24-25 | Chapters 26 | Chapters 27 | Chapter 28 | Chapters 29-30 | Chapter 31 | Chapter 32 | Supplementary puzzles
You might also like these