Bible crossword puzzle: Job, Proverbs and Ecclesiastes
Based on material in chapter 11 of Discovering the Bibleby Alex Varughese
Challenge: Can you solve this puzzle even if you do not have the book by Varughese?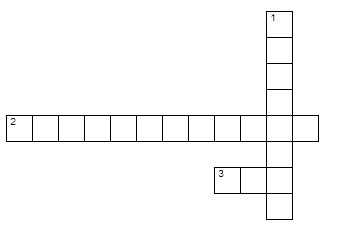 ACROSS
2 A Bible book that has "meaningless" or "vanity" for a key word; this book looks for the meaning of life and concludes that a God-fearing life is better than a life filled with wicked schemes
3 A book with the story of a wealthy man who lost all he had in a series of disasters; the book deals with the question: Why do the righteous suffer?
DOWN
1 A book of wise sayings that deal with discovering the way to the good life and to the living up to one's potential; it has a paragraph extolling the virtuous woman
Puzzle made at www.varietygames.com/CW/
This crossword puzzle was created for use in the course Introduction to Biblical Literature. The words and clues come from the textbook Discovering the Bible: Story and Faith of the Biblical Communities edited by Alex Varughese and published by Beacon Hill Press of Kansas City, now called The Foundry.
-- Howard Culbertson
More Bible crossword puzzles
Chapters 1-2 | Chapters 4-5 | Chapter 6 | Chapters 7-8 | Chapter 9 | Chapter 10 | Chapter 11 | Chapter 12 | Chapter 13 | Chapter 15 | Chapter 16 | Chapter 17 | Chapter 18 | Chapter 19 | Chapter 20 | Chapter 21 | Chapter 22 | Chapter 23 | Chapters 24-25 | Chapters 26-27 | Chapter 28 | Chapters 29-30 | Chapter 31 | Chapter 32 | Supplementary puzzles
More puzzles -- crosswords, word searches and word scrambles
More Bible class stuff
| | |
| --- | --- |
| | Looking for other materials related to Introduction to Biblical Literature? [ more ] |
Book of Job Job's humility &nbs; Job 1:6-12 Book of Proverbs Book of Ecclesiastes Death and dying