Bible crossword puzzle: Job, Ecclesiastes, Proverbs and Song of Songs
Word puzzle on the Old Testament
Draws on material in chapters 11 and 12 of Discovering the Bible by Alex Varughese, a textbook for Introduction to Biblical Literature
Bible reading for this assignment: Job 1-7, 38, 40-42; Ecclesiastes 1-3, 12; Proverbs 1-8, 15, 31; Song of Solomon 1, 8
Challenge: Can you solve this puzzle even if you do not have the book by Varughese?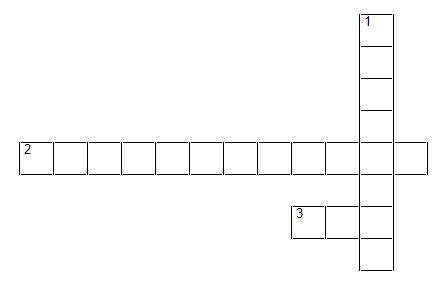 ACROSS
2 -- A Bible book that has "meaningless" or "vanity" for a key word
3 -- A wealthy God-follower who lost all he had in a series of disasters that some of his friends said happened because he had sinned in some way
DOWN
1 -- The book with a long paragraph extolling the virtuous woman
This crossword puzzle was created for use in the course Introduction to Biblical Literature. The words and clues come from the textbook Discovering the Bible: Story and Faith of the Biblical Communities edited by Alex Varughese and published by Beacon Hill Press of Kansas City, now The Foundry Publishing.
-- Howard Culbertson.
More for you on Job, Proverbs, Ecclesiastes and Song of Songs
More crossword puzzles in this series
A | B | C | D | E | F | G | H | I | J | K | L | M | N
You might also like these
More Bible class stuff
| | |
| --- | --- |
| | Looking for other materials related to Introduction to Biblical Literature? [ more ] |