Bible crossword puzzle: Philippians, Colossians, Titus, Hebrews, 1 Peter, 1 John and Revelation
Draws on material in chapters 26 and 28-32 of Discovering the Bible by Alex Varughese, a textbook for Introduction to Biblical Literature
Bible reading for this assignment: Philippians 1-4; Colossians 1-4; Titus 1-3; Hebrews 1, 11-12; 1 Peter 1-5; 1 John 1-5; Revelation 1-5, 21-22
Challenge: Can you solve this puzzle even if you do not have the book by Varughese?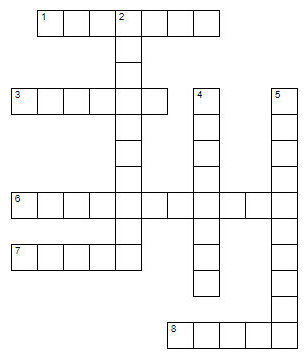 ACROSS
1 -- Key word of this book is "better" or "superior"
3 -- Christian attitude in the midst of suffering; emphasis on holiness
6 -- A letter from prison which exhorts believers to live joyfully and to "press on toward the goal"
7 -- If we are His, we will love one another
8 -- Leader of the First Century church on the island of Crete
DOWN
2 -- Vision of the Grand Finale
4 -- One of the 7 churches of Revelation; the one that was "neither hot nor cold"
5 -- Letter presenting the deity and all-sufficiency of Christ
See syllabus for Bible and textbook reading for this assignment
This crossword puzzle was created for use in the course Introduction to Biblical Literature. The words and clues come from the textbook Discovering the Bible: Story and Faith of the Biblical Communities edited by Alex Varughese and published by Beacon Hill Press of Kansas City, now called The Foundry.
-- Howard Culbertson,
Brief Bible book overviews and meditations
More crossword puzzles
A | B | C | D | E | F | G | H | I | J | K | L | M | N
You might also like these
More Bible class stuff
| | |
| --- | --- |
| | Looking for other materials related to Introduction to Biblical Literature? [ more ] |