Bible crossword: Jesus in the Gospel accounts by Matthew and Mark
Based on material in chapter 20, Discovering the Bible by Alex Varughese
Challenge: Can you solve this puzzle even if you do not have the book by Varughese?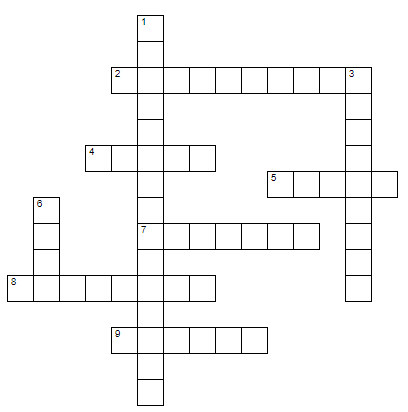 ACROSS
2 The nine opening statements of the Sermon on the Mount which all begin with the word "blessed"
4 The Old Testament prophet quoted by Jewish religious leaders when King Herod asked them where the long-looked-for Messiah was to be born
5 The disciple who first proclaimed that Jesus was the Christ, the long-expected Messiah
7 The gospel that portrays Jesus as a royal Messiah and authoritative Teacher; it is the most Jewish of the gospels and was written by a former tax collector
8 Greek word translated as "church"
9 The Roman governor of Judea who imposed the death sentence on Jesus and had him crucified
DOWN
1 The final words of Jesus in Matthew's gospel in which He tells his followers to "go and make disciples of all peoples" (Matthew 28:19-20)
3 The Jewish governing group to which Jesus answered "I am" when they asked Him point-blank if He was "the Christ, the Son of the Blessed One."
6 The gospel that announced the good news of Jesus as the Son of God, even though it involved conflict, misunderstanding, opposition, suffering and even death. This gospel is the shortest of the four gospels and was written by a man who traveled with the Apostle Paul and Barnabas on their first missionary journey
This crossword puzzle was created for use in the course Introduction to Biblical Literature. The words and clues come from the textbook Discovering the Bible: Story and Faith of the Biblical Communities edited by Alex Varughese and published by Beacon Hill Press of Kansas City, now called The Foundry.
-- Howard Culbertson,
More for you on Matthew and Mark
More Bible crossword puzzles
Chapters 1-2 | Chapters 4-5 | Chapter 6 | Chapters 7-8 | Chapter 9 | Chapter 10 | Chapter 11 | Chapter 12 | Chapter 13 | Chapter 15 | Chapter 16 | Chapter 17 | Chapter 18 | Chapter 19 | Chapter 20 | Chapter 21 | Chapter 22 | Chapter 23 | Chapters 24-25 | Chapters 26 | Chapters 27 | Chapter 28 | Chapters 29-30 | Chapter 31 | Chapter 32 | Supplementary puzzles
You might also like these
More Bible class stuff
| | |
| --- | --- |
| | Looking for other materials related to Introduction to Biblical Literature? [ more ] |
More word puzzles -- Crosswords, word searches and word scrambles