New Testament crossword puzzle: Romans, Corinthians Galatians and Thessalonians
Word puzzle from Sacred Scripture
Draws on material covered in chapters 24, 25 and 27 of Discovering the Bible by Alex Varughese, a textbook for Introduction to Biblical Literature
Challenge: Can you solve this puzzle even if you do not have the book by Varughese?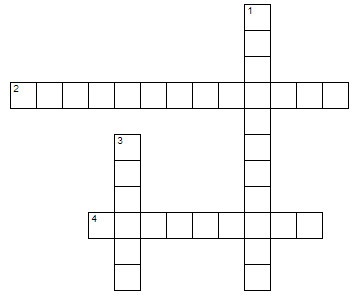 ACROSS
2 -- Believers to whom letters were written about the Second Coming of Christ
4 -- A letter reminding believers that they did not need to become Jews (including following the rite of circumcision) in order to be true followers of Christ
DOWN
1 -- Two letters were written to these believers who had become very divided and disorderly as a congregation
3 -- The only letter that Paul wrote to a church which he did not plant, a letter in which he sets forth the Gospel of grace and faith
Puzzle made at www.varietygames.com/CW
Bible reading for this assignment: 1 Thessalonians 1-5; Galatians 1-6; Romans 3-8; 1 Corinthians 1, 5-15; 2 Corinthians 1-2
See syllabus for Bible and textbook reading for this assignment
This crossword puzzle was created for use in the course Introduction to Biblical Literature. The words and clues come from the textbook Discovering the Bible: Story and Faith of the Biblical Communities edited by Alex Varughese and published by what is now The Foundry Publishing.
-- Howard Culbertson,
Brief Bible book overviews and meditations
More Bible crossword puzzles
A | B | C | D | E | F | G | H | I | J | K | L | M | N
You might also like these
More Bible class stuff
| | |
| --- | --- |
| | Looking for other materials related to Introduction to Biblical Literature? [ more ] |