Bible crossword puzzle: Gospels of Matthew and John
Sacred Scripture word puzzle on material in chapters 20 and 21 of Discovering the Bible, a textbook for Introduction to Biblical Literature
Challenge: Can you solve this puzzle even if you do not have the book by Varughese?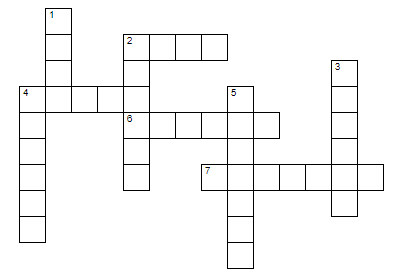 ACROSS
2 -- Sister of Lazarus who anointed Jesus' feet
4 -- Fisherman whose brother came to him and said, "We have found the Messiah"; This man, who became one of Jesus' apostles, was given a new name by Jesus.
6 -- The disciple who doubted ("Unless I see the nail marks, . . . I will not believe it")
7 -- Tax collector who wrote one of the Four Gospels
DOWN
1 -- Jesus said "I am the bread of . . ."
2 -- The sister of a woman named Mary
3 -- Simon Peter's brother and the first of Jesus' disciples (according to John's Gospel); he was the one who reported to the Lord that a little boy having 5 loaves and 2 fish
4 -- The one who introduced Nathaniel as well as some unnamed Greeks to Jesus ("We have found the one Moses wrote about in the Law, and about whom the prophets also wrote")
5 -- Raised from the dead by Jesus
Bible reading for this assignment: Matthew 5-18 and John 1-21
Puzzle made at www.varietygames.com/CW/
See syllabus for Bible and textbook reading for this assignment
This crossword puzzle was created for use in the course Introduction to Biblical Literature. The words and clues come from the textbook Discovering the Bible: Story and Faith of the Biblical Communities edited by Alex Varughese and published by what is now The Foundry.
-- Howard Culbertson,
Brief Bible book summaries and meditations
More Bible crossword puzzles Click on letters to retrieve sheets
A | B | C | D | E | F | G | H | I | J | K | L | M | N
You might also like these
More Bible class stuff
| | |
| --- | --- |
| | Looking for other materials related to Introduction to Biblical Literature? [ more ] |