New Testament crossword puzzle: Acts of the Apostles
Word puzzle from Sacred Scripture
Draws on material in chapter 22 of Discovering the Bible by Alex Varughese, a textbook for Introduction to Biblical Literature
Bible reading for this assignment: Acts 1-28
Challenge: Can you solve this puzzle even if you do not have the book by Varughese?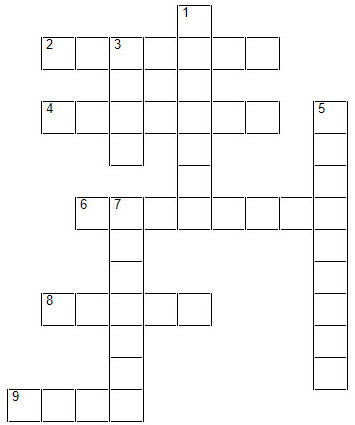 ACROSS
2 -- Paul's young helper who guided the church in Ephesus
4 -- A king before whom Paul spoke
6 -- Paul's traveling companion on his first missionary journey; his name means "encourager"
8 -- Paul's traveling companion on his second missionary journey; he was in jail with Paul when an earthquake struck
9 -- Book of church history that tells of Paul's three missionary journeys
DOWN
1 -- Accused of blasphemy and stoned to death, thus becoming the first Christian martyr
3 -- Author of a gospel and missionary helper to Paul and Barnabas (and about whom they argued)
5 -- An Italian lady who taught Apollos
7 -- A Jew from Alexandria who preached in Corinth with Priscilla and Aquila
This crossword puzzle was created for use in the course Introduction to Biblical Literature. The words and clues come from the textbook Discovering the Bible: Story and Faith of the Biblical Communities edited by Alex Varughese and published by Beacon Hill Press of Kansas City, now called The Foundry.
-- Howard Culbertson,
More for you on the Acts of the Aposstles
More Bible crossword puzzles in this series
A | B | C | D | E | F | G | H | I | J | K | L | M | N
You might also like these
More Bible class stuff
| | |
| --- | --- |
| | Looking for other materials related to Introduction to Biblical Literature? [ more ] |