Bible crossword puzzle: Exodus to Samuel
Word puzzle from Sacred Scripture
Draws on material in chapters 5, 7 and 8 of Discovering the Bible by Alex Varughese
Can you solve this crossword puzzle even if you do not have the textbook?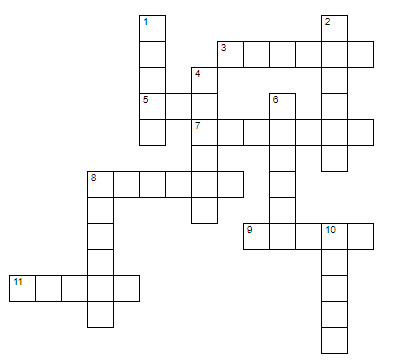 ACROSS
3 -- Moses' tambourine-playing sister
5 -- The priest who raised Samuel. This priest had two wicked sons who were killed by the Philistines
7 -- Israel's female judge (leader) who was also a prophetess
8 -- A very strong man whose involvement with Delilah clouded his judgment and ruined his life
9 -- A prostitute from Jericho whose aid enabled Joshua's men to spy on the city
11 -- Israel's lawgiver and the one who led them from slavery in Egypt to nationhood
DOWN
1 -- The less prominent of the two spies who brought back to Joshua a positive report about the possibilities of re-taking the Promised Land (Numbers 13-14)
2 -- Samuel's mother who was accused by the priest of coming to a place of worship while she was intoxicated
4 -- An Israelite judge who, after being convinced of God's will by using a wool fleece, overcame the Midianite army with a force of only 300 men
6 -- A man "filled with the spirit of wisdom" who was one of the 12 spies who went into the Promised Land. He became Moses' successor (Deuteronomy 34)
8 -- The son of Hannah who became a prophet and a judge
10 -- Moses' brother -- and his right-hand man -- who made the golden calf (Exodus 32)
See syllabus for Bible and textbook reading for this assignment
This crossword puzzle was created for use in the course Introduction to Biblical Literature. The words and clues come from the textbook Discovering the Bible: Story and Faith of the Biblical Communities edited by Alex Varughese and published by what is now called The Foundry.
-- Howard Culbertson,
Brief Bible book overvuews and meditations
Moew Bible crossword puzzles
Other Bible crossword puzzles in this series | Click on letters to retrieve sheets
A | B | C | D | E | F | G | H | I | J | K | L | M | N
You might also like these
More Bible class stuff
| | |
| --- | --- |
| | Looking for other materials related to Introduction to Biblical Literature? [ more ] |