Bible crossword puzzle: 2 Samuel, 1 Kings and Isaiah
Crossword Puzzle "C" from Sacred Scripture -- Draws on material in chapters 8, 9 and 13 of Discovering the Bible by Alex Varughese, the textbook for Introduction to Biblical Literature
Can you solve this crossword puzzle even if you do not have Varughese's book?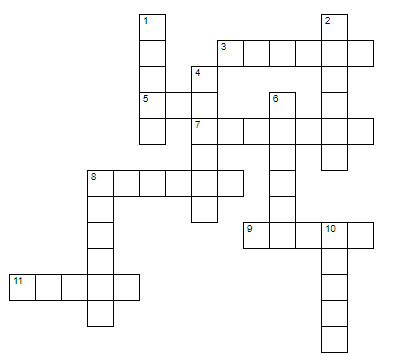 ACROSS
1 -- The victor over the Philistine warrior Goliath who later became the second king of Israel
4 -- First king over the northern tribes (Israel) after the division of the kingdom
7 -- Saul's son and good friend of David
8 -- The prophet who had the confrontation on Mt. Carmel with the prophets of Baal
10 -- The guy with the ultimate bad-hair day: David's long-haired son who conspired to take over his father's throne.
DOWN
2 -- Prophet at the time of kings like Hezekiah and Uzziah who foretold a lot of things about the Messiah
3 -- Solomon's son against whom the northern tribes rebelled after he followed some bad advice
5 -- Wife of Uriah who became King David's wife after David caused the death of her husband
6 -- King David's father
9 -- King who built the first Israelite Temple
11 -- First king of Israel
This crossword puzzle was created for use in the course Introduction to Biblical Literature. The words and clues come from the textbook Discovering the Bible: Story and Faith of the Biblical Communities edited by Alex Varughese and published by what is now The Foundry.
-- Howard Culbertson,
Brief Bible book overviews and meditations
Other Bible crossword puzzles in this series: Click on letters to retrieve sheets
A B C D E F G H I J K L M N More word puzzles
You might also like these
More Bible class stuff
| | |
| --- | --- |
| | Looking for other materials related to Introduction to Biblical Literature? [ more ] |