Bible crossword puzzle: 1 Kings, Amos, Hosea and Micah
Crossword puzzle from Scripture: Draws on material in chapters 9 and 15 of Discovering the Bible by Alex Varughese, a textbook for Introduction to Biblical Literature
Challenge: Can you solve this crossword puzzle even if you do not have the book by Varughese?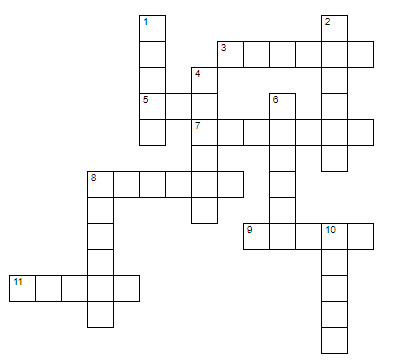 ACROSS
1 -- A prophet whose marriage problems reveal something about God's love
5 -- A wicked queen who encouraged the worship of Baal and Asherah
6 -- The man who was stoned to death because he wouldn't give his vineyard to the king
8 -- Solomon's son against whom the northern tribes rebelled after he followed some bad advice
9 -- Shepherd-turned-prophet who was very upset over how the rich and powerful were mistreating the orphans and widows and other needy people
DOWN
2 -- The prophet who had the confrontation on Mt. Carmel with the prophets of Baal
3 -- First king over the northern tribes (Israel) after the division of the Kingdom
4 -- He asked for and received a double portion of the spirit of a great prophet
7One of Israel's most wicked kings (whose wife instigated a lot of the wickedness!)
Puzzle made at www.varietygames.com/CW
This crossword puzzle was created for use in the course Introduction to Biblical Literature. The words and clues come from the textbook Discovering the Bible: Story and Faith of the Biblical Communities edited by Alex Varughese and published by Beacon Hill Press of Kansas City, now called The Foundry.
-- Howard Culbertson,
Bible reading for this assignment: 1 Kings 12-14, 17-19, 21; 2 Kings 1-7; Amos 1-9; Hosea 1-3, 11-14; Micah 7
Breif Bible book summaies and meditation
1 and 2 Kings Hosea Amos Micah Measuring up to what the Lord requires -- Micah 6:8
Other Bible crossword puzzles in this series | Click on letters to retrieve sheets
A | B | C | D | E | F | G | H | I | J | K | L | M | N
You might also like these
More Bible class stuff
| | |
| --- | --- |
| | Looking for other materials related to Introduction to Biblical Literature? [ more ] |