Bible crossword puzzle: Israel looks at the beginning -- Genesis
Crossword puzzle from Scripture: Genesis
Draws on material in chapter 4 of Discovering the Bible by Alex Varughese, the textbook for Introduction to Biblical Literature
Challenge: Can you solve this crossword puzzle even if you do not have the textbook?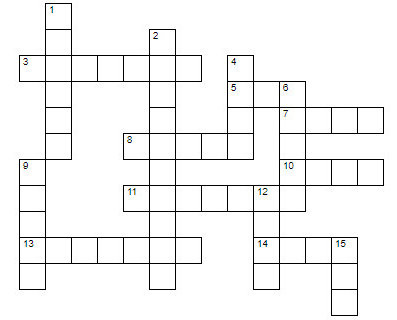 ACROSS
3 -- Out-of-wedlock son born to Hagar
5 -- First woman
7 -- Hero of the Genesis flood story
8 -- Jacob's fourth son
10 -- Murdered his brother
11 -- Isaac's wife
13 -- God promised that "all nations would be blessed" through him
14 -- First murder victim
DOWN
1 -- The shepherd boy who rose to importance in the Egyptian government
2 -- Oldest man who ever lived
4 -- Adam and Eve's third son
6 -- A man who lived in such close relationship to God that he seems not to have died
9 -- Abraham's wife
12 -- First man
15 -- Abraham's nephew
This crossword puzzle was created for use in the course Introduction to Biblical Literature. The words and clues come from the textbook Discovering the Bible: Story and Faith of the Biblical Communities edited by Alex Varughese and published by Beacon Hill Press of Kansas City, now The Foundry Publishing.
-- Howard Culbertson,
Other Bible crossword puzzles in this series | Click on letters to retrieve sheets
A | B | C | D | E | F | G | H | I | J | K | L | M | N
Bible reading for this assignment: Genesis 1-9, 11-12, 15, 17, 21-22, 24, 37-45, 48-50 (plus textbook chapter 4)
You might also like these
More for you from the Bible book of Genesis
More Bible class stuff
| | |
| --- | --- |
| | Looking for other materials related to Introduction to Biblical Literature? [ more ] |