Faith Promise: Theme suggestions
Need a theme idea for your church's Faith Promise convention or missionary weekend?
Here are several dozen possibilities for global missions themes.
A Symphony of Praise
An Open Door
Be a Winner
Behold, the Lamb of God
Building the Kingdom
Caring Reaches Around the World
Cause Something to Happen
Celebrate Missions
Committed Until the Whole World Knows
Creator, Divine Healer, and Lord of Lords
Fan the Flame
Feed My Sheep
Find Us Faithful
Follow the Lord -- In Compassion for the World
Following Jesus
From a Tiny Seed -- To a Great Harvest
Give The Water of Life
Giving Is Living
Global Vision for the Gospel
Go Work in My Vineyard
Harvest NOW!
Harvest Time
Hearts for Missions
His Harvest Field -- Our Vision
His Last Command -- Our First
Hope for the Nations -- Jesus' Love
Into His Presence -- Out to the World
It's a Small World
Know, Share, Give, Care
Let the Earth Hear His Voice
Let the Nations Rejoice
Lift Up Christ
Light Unto the World
Living Water
Love in Any Language
Love, Finding a Way
Love for Missions, Pass It On
Love Lights the Way
Make a Difference
Make Disciples in the Nations
Mission Legacy
Missions ... A Bridge of Love
Missions -- Our Mandate
Missions -- Something to Be Happy About
Nothing is Impossible
Open Hearts, Open Hands
Over the Rainbow
Parade of Missions
Points of Light
Possess the Promise
Reach Out to a Lost World
Reach Your Arms Around the World
Share Him
Sharing -- His Hands Extended
Shine for Him
Taking the World for God
The Rising Tide
The World -- Our Mission
The Power of Sharing
The Joy of Missions
Therefore ... Go
Traveling the World on Our Knees
Unto the Least of These
World Mission Roundup
Yes!
Budget presentation as a jigsaw puzzle
Here's how one church presented the breakdown of their total Faith Promise goal to the congregation. The budget making up this goal had 5 major line items: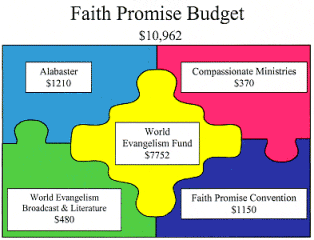 SNU missions course materials and syllabi
Howard Culbertson, 5901 NW 81st, Oklahoma City, OK 73132 | Phone: 405-740-4149 - Fax: 405-491-6658



This work is licensed under a Creative Commons Attribution 4.0 International License. When you use this material, an acknowledgment of the source would be appreciated.