Faith Promise - systematic giving for world missions
PowerPoint: Missions Giving Through Faith Promise
Raising money for missions
"The number one factor that leads to God's blessing and revival is radical generosity!" -- Bill Johnson
Is it important that we give regularly by the week or month?
For most of us . . . yes. Most wage earners find it easier to give weekly or monthly rather than in occasional large lump sums. Regular giving also helps us remember to pray for world evangelism. [ more on prayer ]
Are Faith Promises pledges?
No. A Faith Promise is not a pledge. It is an agreement with God to be personally involved in ministry to others around the world through giving beyond tithing. The amount is determined after earnest prayer. Faith Promise is not a tithe; it is an offering of thanks.
If it is systematic giving that fits into one's budget, where is the sense of joyful sacrifice in the Faith Promise plan of missions giving?
The joy is in seeing God working, seeing the needs supplied and in realizing that we have entered into a partnership with God.
C.S. Lewis said it well: "The only safe rule is to give more than we can spare." [ . . . more questions and answers on Faith Promise ]
Sample Faith Promise commitment card
Here's text for a response card (sometimes called pledge cards) that can be used by church members during a local church Faith Promise missionary convention. This particular card was printed front and back on a 4 ¼ x 5 ½ card.
---
(Printed on front of card)
My Faith Promise for world missions
In sacred trust, total dependence and faith believing, I choose to give by faith so the world may know His grace, experience His love and surrender to His Lordship. I am trusting God to enable me to:
_____ Pray daily for world missions
_____Fast one meal per week for world evangelism
_____Give financially to the support of Nazarene World Missions.
I understand that my Faith Promise commitment (the amount I'm promising to give) is for the 2000-01 church year.
Please fill out this card and write the total yearly amount you plan to give in the space below.
Total to be given in one year ________(see chart)
Check method of contribution: ___ Weekly ___ Monthly ___ Lump sum payment
Name: ___________________________________________________
---
What regular, systematic giving will accomplish
A weekly gift of . . .
$ 5
10
15
20
25
30
35
40
45
50
55
60
70

equals yearly
$260
520
780
1,040
1,300
1,560
1,820
2,080
2,340
2,600
2,860
3,380
3,640

A monthly gift of . . .
$ 10
20
25
35
45
50
60
70
75
80
85
95
100

equals yearly
$120
240
300
420
540
600
720
840
900
960
1,020
1,140
1,200
Print this card
This card available in PDF format.
Sample of another card
Check out this card used by The Fellowship at Western Oaks Church of the Nazarene in Oklahoma City.
Oswald Smith, pastor of People's Church in Toronto, Canada, publicized the phrase "Faith Promise" to describe his asking the people of his congregation to make an annual financial and prayer commitment or pledge to world evangelism. The idea was born out of his own experience of feeling that God was asking him to give more than he thought he could give.
Front of sample Faith Promise commitment card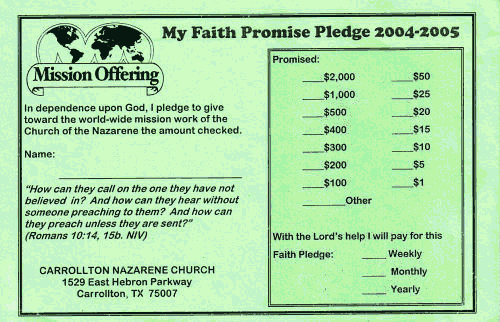 Back of sample Faith Promise commitment card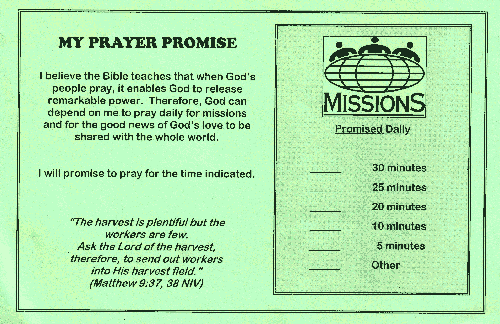 How does a church go about calculating a Faith Promise goal?
"The present global financial situation is a good opportunity for us to examine our ways, to repent of our greed and wastefulness, amd to reassess our stewardship practices. However, it is also an excellent opportunity for us to demonstrate faith and trust in God's radical generosity. One way we do this is by giving freely, not withholding or hoarding. God delights in a cheerful giver because He is a cheerful giver. As we trust Him we become like Him!" -- Daniel Psaute, Nazarene missionary
&nbsp -- Howard Culbertson

Faith Promise event resources: Sample brochure Bulletin inserts World missions responsive Bible readings Commitment cards: Sample 2 Sample 3 Children's card ebook chapter on Faith Promise Guidelines for success Recipes from Haiti Sample budget Budget visual

Themes Bible themes Use a phrase from a song Other suggestions

Missions music possibilities: Classics Contemporary Songs in many languages

10/40 Window Seeking God's will? African martyr's commitment Mission trip fund-raising Ten ways to ruin mission trips
Need decorating stuff for a missions dinner or event?
Liven up your missions conference events. How about some Chinese fortune cookies with scripture verses inside or paper place-mats which follow a country theme?
How to have a successful Faith Promise Convention
Faith Promise themes: What theme or slogan did you use this year for your Faith Promise Convention? I'd like to post a collection of themes here. E-mail me at the address agove with your theme. As for suggestions, why not use a song title? Check out these lists of contemporary songs and classic missions hymns.
Faith Promise and Beyond: Unlocking the Resources of the Church to Help Fulfill the Great Commission by Keith Brown
Have more questions about Faith Promise?
| | |
| --- | --- |
| | Check out the Faith Promise FAQ page (Frequently Asked Questions) [ more ] |