Nazarene Missions course
Open Educational Resources
This page and the pages linked from it are Open Educational Resources (OER)
Course resources
Power =Point: Presentation places Nazarene missions in the historical context of Christian missions and global evangelization. [ view online ] [ download as PowerPoint ]


Nazarene Missions International
NMI mission statement, brief history, program and promotion resources, biographies of Susan Fitkin and Wanda Knox, plus links to district and local church NMI home pages on the web
Brief NMI history, including photos of early leaders Susan Fitkin, Louise Robinson Chapman, and Mary L. Scott.
Overview of history of Nazarene world missions outreach
Beginning Nazarene work in Croatia
Beginning days of Nazarene work in Bulgaria
Timeline of Nazarene global expansion -- each country or world area where the Church of the Nazarene is present in ministry and the year that country or area was officially entered.
Thourgh you, all nations will be blessed" -- Nazarene missions in context: Ralph Winter's "epochs" of missions history sets the background for a look at Nazarene missions history
Biographies
World Evangelism Fund -- where on earth does it go? [ view online ] [ Download as PowerPoint ]
Mission to the World -- History of Nazarene Missions by J. Fred Parker, published in 1986
Exam study guides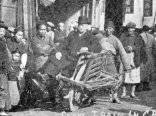 Early Nazarene missions leader H.F. Reynolds in China during his epic 1913-1914 around-the-world trip

External Links
Writing Standards

Most courses at SNU contain a writing component.
I expect students to produce written work that is focused, well-developed, organized, and relatively free of grammatical, punctuation, and spelling errors.
Papers falling short of this standard will not be graded. That work will be returned to the students for further revision and resubmission.
See my writing checklist.
-- Howard Culbertson,
Tempted to cheat on some schoolwork? Before you do, read SNU's academic integrity policy
More on world missions for you