Missionaries who shaped today's global outreach efforts
500-word mini-essays in Engage magazine
Paul Orjala and Indigenization
Twenty-five year old Paul Orjala went to Haiti in 1950 with his wife Mary to open the work of the Church of the Nazarene in that Caribbean island nation.
While "missionary" is the label that seems to fit him best, Paul Orjala was a preacher, a talented musician, a writer, and a seminary professor.
Indigenization was a guiding missiological principle for Paul Orjala long before other Western missionaries embraced it.
Who was Paul Orjala?
Paul Orjala (1925-2005) was, together with his wife Mary, the pioneer Nazarene missionary for the Church of the Nazarene in Haiti. A gifted piano player, he was also a linguistic scholar of the regional dialects of Haitian Creole. After 14 years in Haiti, he became the missions professor at Nazarene Theological Seminary (Kansas City), a position he held for 21 years. He then taught at Point Loma Nazarene University for seven years. He authored several books on missionary work.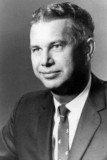 What is Paul Orjala's legacy to us?
"Do not bring us the Gospel as a potted plant," Murthi told missionaries working in India, "Bring us the seed of the Gospel and plant it in our soil."
Murthi had watched missionaries import "standard operating procedures" and programs (which they themselves often headed up) with little critical reflection as to whether those things could be sustained locally. What Murthi wanted was for churches in India to flourish in homegrown ways.
Murthi's picturesque statement reflected a desire for both contextualization and indigenization in churches in India. Contextualization relates to how forms may be altered to accomplish the same desired function in different cultures. Indigenization in a church, in community development or even in the world of commerce means local people having decision-making authority to the point of feeling authentic ownership of something. Both words refer to the process of people making something "their own."
Healthy church planting movements always have a high degree of indigenization. The 14 years of ministry in Haiti by Paul and Mary Orjala exemplify how expatriate (foreign) missionaries can effectively foster indigenization.
The Orjalas went from the U.S.A. to Haiti in 1950. Western missionaries of that time often started a congregation or a ministry and led it for years and years. Eventually, with much trepidation the missionaries would step aside and turn their "baby" over to a local person. Paul Orjala's modus operandi stood in stark contrast to that. Though he fostered the planting of scores of Nazarene churches in Haiti, Paul Orjala never pastored a single one of them.
Overflowing with energy and creativity, Paul saw himself as an advisor and consultant to the Haitian church, rather than its leader. He never thought of the Haitian Nazarene movement as his "baby." From the start, he empowered local leaders who emerged naturally. Indeed, he purposefully never did anything which a Haitian could do.
Paul Orjala looked up to Haitian leaders. He deferred to their judgment. He participated with them in developing strategies and planning programs, but he did not dictate things. He did not set himself up as the gate-keeper for decisions. He showed no reluctance to trust the Holy Spirit to guide the Haitian church.
To be sure, indigenization for Orjala did not mean being walled off from denominational associations. Paul, who went on to become professor of missiology at Nazarene Theological Seminary in Kansas City, MO., believed the church in Haiti could and should be both fully Nazarene and authentically Haitian.
At a time when groups of missionaries tended to cluster in one place, Paul Orjala wanted only a limited number of Nazarene missionaries in Haiti. One reason was to make sure programs and structures could be supported locally.
For more than seven decades, the Haitian Nazarene church has seen consistent, well-above-average growth. Haiti's total population is just under the number of people living in the greater Chicago metro area. Today, in that Caribbean island country, there are almost 1,000 Nazarene churches. That is because of, at least in part, Paul Orjala's insistence that indigenization be a key characteristic of the Church of the Nazarene in Haiti.
This article was originally publised in Engage,, an online publication of Nazarene Missions International.
For more, get the book Paul Orjala: The man, the mission, a biography by Franklin Cook
"Indigenizing" ministries
Contextualization / Indigenization
Testing our level of contextualization and indigenization
"The ultimate goal in contextualization is to help a . . . group (of people) learn how God can be a real part of their everyday life as they practice Biblical faith." -- Dean Gilliland
What have we as a local church or as a missions organization changed because we take "culture" seriously?
Will the people whom the church is trying to serve feel "comfortable" in its gatherings, in its worship events and in what it wants to do in terms of ministry in the community? (In social situations, peoples' comfort matters to them more than it "ought" to!)
Do we seem to identify with one another and with what is going on?
Do the people whom the church is trying to serve feel a sense of ownership in the mission and priorities of the church?
Do worship forms, leadership styles, and church life feel natural to the people?
Is the core meaning of the gospel being understood?
Is revelation taking place in people's hearts?
Are new disciples being made?
Is outreach and invitation to involvement taking place through natural social networks?
Based on material in To Spread the Power: Church Growth in the Wesleyan Spirit by George Hunter III
-- Howard Culbertson, , emeritus professor of world missions, Southern Nazarene University
Orjala's infinitely reproducible concept More mini-essays in the "Doing missions well" series Harvest time in Haiti!
You might also like these
World missions history resources: Black American involvement in world missions World mission history crossword puzzle Historic world missions slogans Brief overview of world mission history Monastic missionary strategy Nazarene Missions International history PowerPoint: Epochs of world mission history World missions from 1600 to the present Missions history syllabus Year-by-year timeline of world evangelism Today in world missions history Evangelizing the Vikings William Borden's story