Christian missions history crossword puzzle



Missions history
Barbarian evangelization
Black history
Crossword puzzle
Exam study guides
Historic slogans
Lecture
Monastic strategy
NMI history
PowerPoint presentation
1600 to the present
Syllabus
Timeline
Today in history
Viking evangelization
William Borden story

More crosswords

10/40 Window

Seeking God's will?

African martyr's commitment

Mission trip fund-raising

10 ways to ruin mission trips

Introduction to Christian Missions course resources

Courses using the book Perspectives on the World Christian Movement cover a great deal of material on missions history.
Work this crossword puzzle to see if you have digested that material in the historical section of that.book which looks at various aspects of Great Commission fulfillment.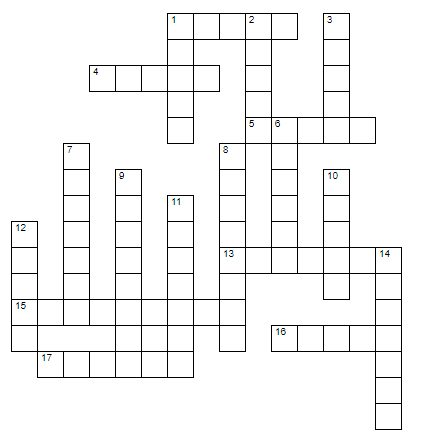 Across
1 "Father of modern missions" who was a shoe cobbler as well as lay preacher
4 The original name of the one who stands as proof of the unchangeableness of God's promise to bless
5 Greek word in Matthew 28:19 which means "people group"
13 Means "the father of many nations." Many missiologists believe that Christ's Great Commission is a restatement of God's covenant with this person.
15 The desired response to God's call to bless every people
16 Another people group which (like 10 Down) heard the Gospel from refugees from Roman persecution. Two brothers Cyril and Methodius ministered among this group.
17 The third of the ten redemptive eras of God's history of His people
Down
1 The 1st "modern" era of the expansion of the Church focused on the "_________lands"
2 One of God's "involuntary" methods for spreading His name the hard way (as for example with the Jews in 721 and 586 B.C.)
3 The sixth of the ten 400-year eras of God's expanding blessing
6 Pioneer of the 2nd or "inlands" era of modern missions
7 A biblical word for a non-Jew who may become a fellow heir of the promise
8 Misguided attempts to spread Christ's authority which still affect how 1 billion individuals' view Christianity
9 If not handled properly, this will be lost
10 A northern European people who heard the Gospel from Roman exiles. Ulfilas translated the Bible into their language.
11 A seafaring people which merged their marauding ways with their Christianity
12 The recipient of God's promise in Genesis 28:14
14 The one whose coming is at the midpoint of history
Online courses which I have taught using all or parts of the book Perspectives on the World Christian Movement include Missiology and Contextualization (a master's level course at Northwest Nazarene University), Global Evangelism (offered by Nazarene Bible College) and Missions in Global Contexts (offered by Nazarene Theological Seminary).
&nbsp -- Howard Culbertson
Is your group having problems?
| | |
| --- | --- |
| | Some small groups have problem members that hinder their effectiveness. [ read more ] |
SNU missions course materials and syllabi
Howard Culbertson, 5901 NW 81st, Oklahoma City, OK 73132 | Phone: 405-740-4149 - Fax: 405-491-6658



This work is licensed under a Creative Commons Attribution 4.0 International License. When you use this material, an acknowledgment of the source would be appreciated.