The End of an Era
This ebook is a biography of Rev. Paul McGrady, pastor, evangelist and professor of evangelism. These seven chapters (including the Foreword/Preface) contain the story of his life and one of his sermons. Paul McGrady, Mr. Evangelism was originally published by Pedestal Press of Kansas City
Grinning broadly, the six-foot, red-haired evangelist swept into Bresee Hall 211. The sign above the door read, "Director of Public Relations." For almost a year, this had been his office.
It was August 3, 1967. Since January, the 42-year-old preacher had been behind a pulpit over 150 times in addition to his duties as PR director and part-time professor at what is now Southern Nazarene University. His personal evangelism and visitation outreach programs using young people from the 1,800-member student body were going well. When school ended in May, McGrady had had seven teams of two or more students out weekends blitzing towns. He was proud of his "boys." Every week they would "blitzkrieg" a town, doubling attendance in the local Church of the Nazarene and leaving the pastor with a long list of new prospects.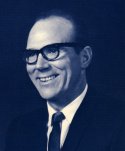 Checking quickly with his secretary, the public relations director said goodbye and strode down the hall.
He stopped by the business office to see about his expense account. "Hey, Tiger, where are you going?" Harry Craddock, business manager, called out. They chatted a bit; then Paul McGrady left for his home on the western edge of Oklahoma City.
He looked at his horses and rounded up his two children, Miriam and Paul, Jr. They went to Prof. James Main's house to get his daughter, Jolaine. It was going to be cramped in his white Chevy El Camino cab, but when they met the college quartet after the hour-and-a-half drive to Tulsa, they would have more room.
The College Men Four had been in Broken Arrow (a suburb of Tulsa, OK) on Wednesday night, August 2. By Thursday evening, they and the Bethany Nazarene College public relations director were to be in Siloam Springs, Arkansas, for the last night of the Northwest Oklahoma Nazarene District youth camp.
It was noon Thursday when the youngsters and Paul McGrady left Oklahoma City. Up north, in Wichita, Kans., it was being announced that Paul McGrady would be in Dodge City on September 26 for a Sunday school convention. At two o'clock, they met the quartet in Tulsa. Two of the quartet members, Gene Coburn and Paul King, climbed into the El Camino. The two teen-age girls and Paul, Jr., got into the quartet station wagon with Steve Langford and Jim Dillow.
The youth camp never saw Paul McGrady ...
Driving through Tulsa on rain-slicked Skelly Bypass (what is now Interstate 44), the occupants of the station wagon watched in horror as the El Camino suddenly skidded across the grass median and into an Illinois car in the southbound lane. Five died instantly.
A world collapsed. What is now Southern Nazarene University saw the end of an era.
"We have lost one of our most dynamic evangels," telegraphed Bud Lunn, Nazarene Publishing House manager. . . . [ more ]
-- Howard Culbertson,
Paul McGrady: The preacher
| | |
| --- | --- |
| | McGrady's growing up years, his dropping out of school, his call to preach and his ministerial training. . . . [ more ] |
More eBooks for you
You might also like these