Decision-making tower or pyramid
"Wise living gets rewarded with honor; stupid living gets the booby prize." -- Proverbs 3:35, The Message
How to exercise wise judgment and make good choices
This tower or pyramid illustrates how problem solving in the situations of life can unfold as we move from the facts of a situation to the factors that can guide us in decision-making.
At level one we ask: "What happened to bring us to this point?"
At level two we should ask: "In what direction am I being pointed by values that I personally hold?"
At level three we should ask: "What principles should guide me in making decisions like this? How do the theological positions I hold help me in coming to decisions on issues like this one?"
At level four we should ask: "How does my personality factor into the way I interpret events? Are there external factors (life situation, political environment, people to whom I am accountable at work or in social organizations, my close friends and so on) which are influencing me?"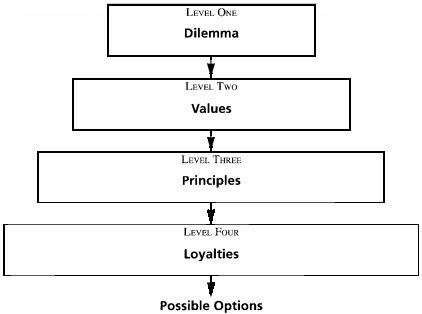 -- Howard Culbertson
"I will do what you have asked. I will give you a wise and discerning heart." -- 1 Kings 3:12

Case studies Working through conflict Leadership principles

10/40 Window explanation and map Seeking God's will? African martyr's commitment Mission trip fundraising Ten ways to ruin your mission trip Nazarene Missions International resources