Decision-making tower or pyramid



What's new?

Case studies

Want more out of life?

10/40 Window

Searching for God's will?

An African martyr's statement on commitment

Mission trip fund raising

10 ways to ruin a short-term mission trip

Nazarene Missions International resource pages


Share on Facebook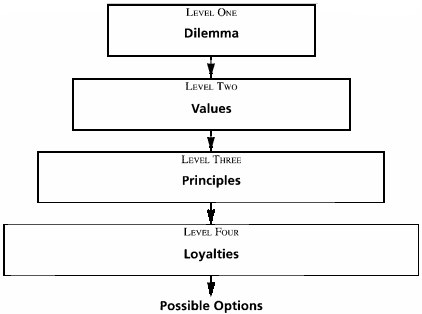 Steps to making good decisions

This tower or pyramid illustrates how problem solving in the situations of life often unfolds as we move from the facts of a situation to the factors which guide us in decision-making.

At level one we ask: "What happened?"
At level two we should ask: "In what direction am I being pointed by values I personally hold?"
At level three we should ask: "What principles do I try to follow in making decisions like this? How do the theological positions I hold help me in coming to decisions on issues like this one?"
At level four we should ask: "How does my personality factor into the way I interpret events? Are there external factors (life situation, political environment, people to whom I am accountable at work or in social organizations, my close friends and so on) which are influencing me?"
SNU missions course materials and syllabi
Howard Culbertson, 5901 NW 81st, Oklahoma City, OK 73132 | Phone: 405-740-4149 - Fax: 405-491-6658
Copyright © 2002 - Last Updated: January 26, 2015 | URL: http://home.snu.edu/~hculbert/tower.htm

You have permission to reprint what you just read. Use it in your ezine, at your web site or in your newsletter. Please include the following footer:
Article by Howard Culbertson. For more original content like this, visit: http://home.snu.edu/~hculbert