A world evangelism text? Matthew 28:19 comes to mind.
Missions: The heart of God
The Great Commission: Suggestion or command?
"Go and make disciples of all nations, baptizing them in the name of the Father and of the Son and of the Holy Spirit, and teaching them to obey everything I have commanded you" (Matthew 28:19-20).
Question: Which Bible verse is most often associated with world evangelism? Easy answer: The Great Commission in Matthew 28:19-20.
Jesus spoke those words after His resurrection and not long before His ascension. For most Christians, these final words of Matthew's Gospel immediately come to mind in conversations about Biblical motives for world missions.
The Great Commission follows up on God's promise that all peoples on earth would be blessed through His people (Genesis 12:3). The Great Commission also reflects what the Old Testament says about the "light" of salvation reaching "the ends of the earth" (Isaiah 49:6). It's an achievable command. Indeed, Revelation 7:9 describes an End Times vision in which the Apostle John saw the results of Great Commission fulfillment.
German theologian Thomas Schirrmacher calls the Great Commission the most important passage in the Gospel of Matthew. He says, "The Great Commission in the Gospel of Matthew (28:16-20) is not only the end of the Gospel of Matthew; it is also its climax and its goal."
References to Christ's Great Commission abound in material about world evangelism. Here are some samples from the writings of missionaries and missions mobilizers:
"Is not the commission of our Lord still binding upon us? Can we not do more than now we are doing?" -- William Carey
"The Great Commission is not an option to be considered; it is a command to be obeyed." -- Hudson Taylor
"If a commission by an earthly king is considered an honor, how can a commission by a Heavenly King be considered a sacrifice?" -- David Livingstone
"Any church that is not seriously involved in helping fulfill the Great Commission has forfeited its biblical right to exist." -- Oswald J. Smith
"The Great Commission is a personal obligation upon every Christian. . . . Each member of the church must face this task with obedience." -- Remiss Rehfeldt
"God has given us a Great Commission, and we dare not assume that all is going well, or that we are doing the best that can be done." -- Gary McIntosh
"Make the fulfillment of the Great Commission your supreme ambition." -- Peter Hammond
"Being involved in the Great Commission is not only a matter of obedience to God's plan; it is also obedience to the holy idea of justice. Why should we have the joy of salvation and its benefits and not care that millions do not have it?" -- Loren Triplett
"We are on planet earth for one reason. One reason! To obey the Great Commission. To see that every tongue, tribe and nation has a witnesss of who Jesus is." -- John Zumwalt
"If the Great Commission is true, our plans are not too big; they are too small." -- Pat Morley
&nbsp -- Howard Culbertson
A majority of church goers have no idea what the Great Commission is a recent poll by the Barna Group
This 500-word mini-essay on a world missions Bible passage is one of more than three dozen articles in the "Heart of God" series published in Engage, a monthly online magazine produced by the Church of the Nazarene.
"I really appreciate William Carey's use of the word obligation when it comes to the apostles' role in the Great Commission. I wonder if we would use such a strong term today if it would make a difference. . . What if we called Matthew 28:19-20 the Great Obligation? That sounds much stronger and maybe more fitting." -- Kristopher Powell, Northwest Nazarene University graduate student
Did the Apostle Paul believe in the Great Commission?
Harvest is great; workers are few
The task remaining and Christian resource allocation
People ask: "How we be concerned about other countries when there is so much evangelism yet to be done here at home?"
Here's a graphic that can help answer that question.
Worker-to-need ratio: In North Africa, there is only one Christian pastor or missionary for every two million people.
Global harvest: What if?
If the ratio in North Africa of Christian workers to the total population was applied to the U.S. and Canada, those two countries would have about 120 full-time Christian workers living in them. Also, there would be only seven Christian churches of any denomination in all of those two countries.
Can we really grasp what the church situation in the U.S. and Canada look like if the worker-to-need ratio existing in the countries of North Africa was applied to the US and Canda. Here's a graphic to help us visualize that scenario: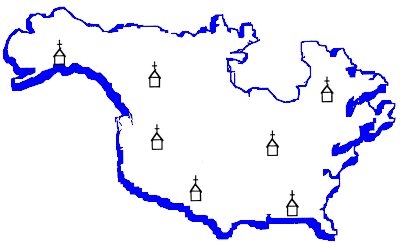 There is good news in terms of global evangelistic outreach: Reports suggest that 10,000 people a day are coming to Christ in one huge Asian country alone.
Where does mission begin in the Bible?
| | |
| --- | --- |
| | Where does mission begin in the Bible? A good place to start is Genesis 1:1. [ read more ] |

More reflections on Christ's Great Commission: Susan Fitkin Jonah and God's missionary heart Fulfillment in our generation? Bible passages referring to Great Commission fulfillment Historical context
Doing missions well: Biographical sketches Fiery world evangelism sayings World missions slogans Ideas that shape world mission outreach today