Mission trip fund raising post card



Mission trip fund raising
Characters
Church policy
Deadlines
Getting support
Fund-raisers
Samples
Post card
Prayer card
Letters
PowerPoint

Short-term missions resources

Do you have a call to missions?

Praying for missionaries

NMI resource pages

Idea: An SNU student used card stock to create a postal card as part of her support raising efforts. Here's what that promotional post card looked like: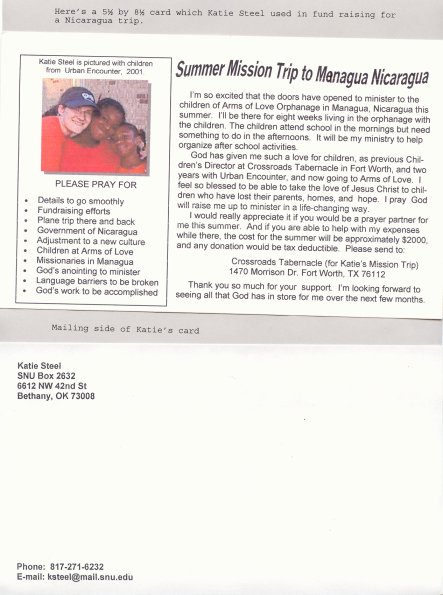 SNU missions course materials and syllabi
Howard Culbertson, 5901 NW 81st, Oklahoma City, OK 73132 | Phone: 405-740-4149 - Fax: 405-491-6658



This work is licensed under a Creative Commons Attribution 4.0 International License. When you use this material, an acknowledgment of the source would be appreciated.