Commitment or rules on how to treat the Bible


Canaan's strategic location
Bible in 50 words
15 key Bible chapters
Old Testament book order
Reversing Biblical illiteracy
Famous sayings
How to study the Bible
Text of 10 Commandments
Questions answered by OT
Bible story line

10/40 Window

Seeking God's will?

Commitment: African martyr

Mission trip fund-raising

Ways to ruin mission trips

Nazarene Missions International resources

My friend Steven Troutman shared with me this page from a Bible given to him by his parents when he was a boy.
I will read my Bible every day.
I will study my Bible to learn its meaning.
I will rememorize choice portions from my Bible.
I will obey the commandments in the Bible.
I will show reverence for the Bible, for it is God's Holy Word.
I will not placd books or papers on the Bible.
I will not use my Bible as a place to collect things.
I will mark only important things in my Bible.
I will handle my Bible with clean hands and turn its pages gently.
My Bible Pledge
I pledge allegiance to the Bible, God's holy Word, and will make it a Lamp unto my feet, a Light unto my path, and hides its word in my heart, that I may not sin against God.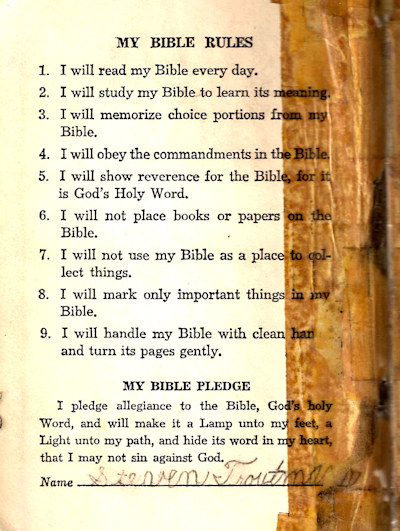 SNU missions course materials and syllabi
Howard Culbertson, 5901 NW 81st, Oklahoma City, OK 73132 | Phone: 405-740-4149 - Fax: 405-491-6658



This work is licensed under a Creative Commons Attribution 4.0 International License. When you use this material, an acknowledgment of the source would be appreciated.