Responses: Seeing things differently
Can the way a lightbuld is described help us to comprehend that there is a great diversity of worldviews in the world?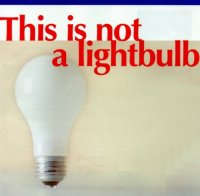 Graphic used by permission of Sodexho Marriott Services
Responses given in the Sodexho Marriott Services ad
To a V.P. of Finance, it's an energy conservation opportunity.
To a Risk Manager, it's a critical safety device.
To a Director of Engineering, it's code LB36-85/N7 in the electrical monitoring software.
SNU missions course materials and syllabi
Howard Culbertson, 5901 NW 81st, Oklahoma City, OK 73132 | Phone: 405-740-4149 - Fax: 405-491-6658



This work is licensed under a Creative Commons Attribution 4.0 International License. When you use this material, an acknowledgment of the source would be appreciated.