Oklahoma City's Hindu Temple
Story and photos © Oklahoma Publishing Company, Used by permission and in accordance with the educational "fair use" provisions of U.S. copyright acts.
Temple houses spiritual treasure
The modest exterior of a building secluded from the nearby roadway belies the rich spiritual treasure it contains for Oklahoma City's Hindu community.
Inside, three of five intricately carved concrete temples now house idols that are an integral part of Hindu worship.
The deities, carved on black granite and marble and shipped from India, were installed during recent ceremonies at the Hindu Temple of Oklahoma located at 7200 North Coltrane.
A Hindu foundation was established in Oklahoma City several years ago as a nonprofit organization for preserving and promoting the religious and cultural heritage of India. The community built the temple on a 10-acre lot in the late 1980s.
Artisans from Tamil Nadu, India, worked from last November through April to construct the five temples within the building. Starting with concrete and materials locally available, the artisans sculpted the temples using traditional 3,000-year-old designs.
The temples are dedicated to various Hindu gods. Installed during the recent ceremony were idols representing the Lord Ganesha, considered the remover of obstacles; Lord Shiva, one of the trinities of Hindu mythology (the others are Lord Brahma and Lord Vishnu); and Lord Venkateshwara.
The remaining two temples will house Lord Rama and Lord Krishna, two other incarnations of Lord Vishnu. Installation of these two deities will be done later. Shiva is considered the destroyer of evils, Brahma the creator and Vishnu the protector.
Vidyasagar Rao, foundation treasurer and chairman of the deity installation, said the event was a milestone for the community.
The ceremony was carried out according to Hindu scriptures by five priests from different temples in the United States, headed by Vedala Srinivas Acharya, priest of the Oklahoma City temple.
Acharya came to the United States as a scholar to the Hindu Temple in New York, and later was instrumental in establishing the Balaji Temple in Chicago. He came to Oklahoma City about two years ago.
A scholar in Sanskrit and Telugu, he also teaches Hindu philosophy and Sanskrit for beginners at the University of Central Oklahoma in Edmond as an adjunct professor.
Foundation member Amulya Reddy said the greater Oklahoma City area includes about 1,000 Hindus. Hindus also come to the temple from Tulsa, Stillwater, Enid and throughout the state.
Regular hours for the temple are 9:30 to 11:30 a.m. and 4:30 to 6:30 p.m. Monday, Tuesday, Thursday and Friday and 9 a.m. to noon and 2 to 6 p.m. on Saturdays and Sundays.
Pictures of Hindu temple in Oklahoma City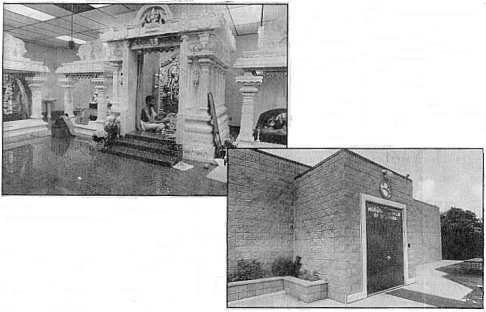 Extremism: Who is the real Hindu?
Who is the real Hindu? -- A newspaper column that reflects on actions by extremist Hindus in India

Should Christian believers eat food that has been offered at a shrine to Hindu gods such as Krishna?
| | |
| --- | --- |
| | What should a Christian do when friends pull him into a weekly service at a Hindu shrine? [ read more ] |
&nbsp -- Howard Culbertson

5 case studies related to Hinduism

Hindu-related pages: Are the "heathen" lost? Answers to an oft-asked question Case studies Celebrating Diwali Eating puja food Word for God

10/40 Window explanation and map Case study: Shinto shrine worship Seeking God's will? African martyr's commitment Mission trip fundraising Ten ways to ruin mission trips Powerful world missions slogans Nazarene Missions International resources