Home page Site search Site index
Sample: Faith Promise commitment or pledge card
Oswald Smith, pastor of People's Church in Toronto, Canada, publicized the phrase "Faith Promise" to describe his asking the people of his congregation to make an annual financial and prayer commitment or pledge to world evangelism. The idea was born out of his own experience of feeling that God was asking him to give more than he thought he could give.
Front of sample Faith Promise commitment card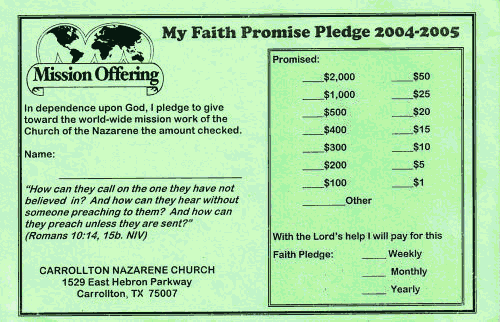 Back of sample Faith Promise commitment card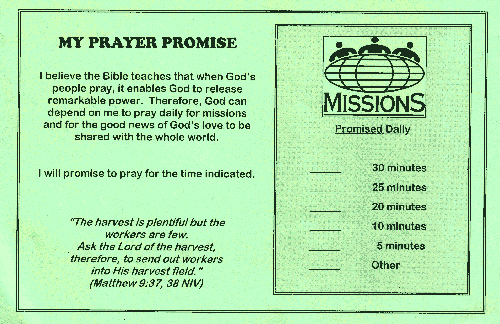 How does a church go about calculating a Faith Promise goal?
"The present global financial situation is a good opportunity for us to examine our ways, to repent of our greed and wastefulness, amd to reassess our stewardship practices. However, it is also an excellent opportunity for us to demonstrate faith and trust in God's radical generosity. One way we do this is by giving freely, not withholding or hoarding. God delights in a cheerful giver because He is a cheerful giver. As we trust Him we become like Him!" -- Daniel Psaute, Nazarene missionary
&nbsp -- Howard Culbertson

Faith Promise event resources: Sample brochure Bulletin inserts
Commitment cards Sample 1 Sample 2 Sample 3 Children's card
"Giving more with less pain" -- a book chapter on Faith Promise FAQs (Frequently Asked Questions) Guidelines for success Poetry Recipe from Haiti Sample budget Budget visual
Themes 1950's Mission-opoly Bible themes Use a phrase from a song Other suggestions

Missions music possibilities: Classics Contemporary Songs in many languages

10/40 Window Seeking God's will? African martyr's commitment Mission trip fundraising Ten ways to ruin mission trips
World missions course materials and syllabi
Howard Culbertson, 5901 NW 81st, Oklahoma City, OK 73132 | Phone: 405-740-4149



This work is licensed under a Creative Commons Attribution 4.0 International License. When you use this material, an acknowledgment of the source would be appreciated.