Home page Site search Site index
Harvest is great; workers are few
The task remaining and Christian resource allocation
People ask: "How we be concerned about other countries when there is so much evangelism yet to be done here at home?" Here's a graphic that helps answer that question.
Worker-to-need ratio: In North Africa, there is only one Christian pastor or missionary for every two million people.
Global harvest: What if?
If the ratio of Christian workers to total population that exists in North Africa were applied to the U.S. and Canada, those two countries would have about 120 full-time Christian workers living in them. Also, there would be only 7 small churches in the entirety of those two countries.
What would the church situation in the U.S. and Canada look like if the worker-to-need ratio existing in the countries of North Africa was applied to the US and Canda. Here's a graphic to help you visualize that situation: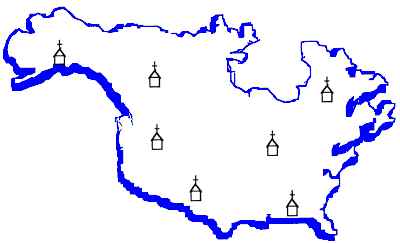 There is good news: Reports suggest that 10,000 new people a day are coming to Christ in one huge Asian country alone.
21 Days for Global Harvest — video promotion of three-week long prayer event.
&nbsp -- Howard Culbertson

10/40 Window explanation and map Nazarene missions statistics Seeking God's will? African martyr's commitment Mission trip fundraising Ten ways to ruin mission trips Nazarene Missions International resources
World missions course materials and syllabi
Howard Culbertson, 5901 NW 81st, Oklahoma City, OK 73132 | Phone: 405-740-4149 - Fax: 405-491-6658



This work is licensed under a Creative Commons Attribution 4.0 International License. When you use this material, an acknowledgment of the source would be appreciated.