Mission map: Nazarene world regions



Nazarene missions
1st Work & Witness
Casa Robles
Harmon Schmelzenbach
History
Photo scrapbook
Printed languages
Statistics
Timeline
World regions

Great missionary slogans of the past

Creative access countries

10/40 Window

African martyr's commitment

Mission trip fund-raising

10 ways to ruin mission trips

Nazarene Missions International resource pages

A strategy for fulfilling the Great Commission of Jesus
Nazarene missions around the world: For strategic reasons, Nazarene missions leaders have divided the globe into regions. New outreach as well as work in existing mission areas is administered from offices located within each region. A Regional Director appointed by the General Board works closely with a General Superintendent in overseeing Nazarene work in that geographical area. [ more on development of regional structure ]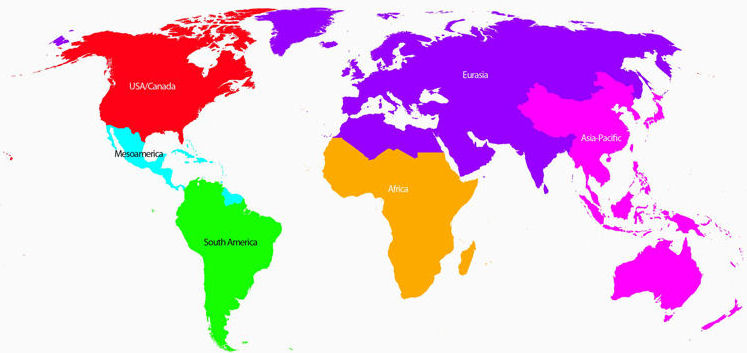 The six regions with the locations of the regional offices are:
Africa Region

Office: Johannesburg, South Africa

Asia-Pacific Region
Eurasia Region

Office: Schaffhausen, Switzerland

Mesoamerica Region

Office: Panama City, Panama

South America Region

Office: Buenos Aires, Argentina

USA/Canada Region

Office: Lenexa, Kansas, USA
Is Christ the only way?
| | |
| --- | --- |
| | Is it possible to avoid both narrow dogmatism and uncritical relativism? Another important question is: what part does culture play in shaping theology?[ read more ] |
SNU missions course materials and syllabi
Howard Culbertson, 5901 NW 81st, Oklahoma City, OK 73132 | Phone: 405-740-4149 - Fax: 405-491-6658



This work is licensed under a Creative Commons Attribution 4.0 International License. When you use this material, an acknowledgment of the source would be appreciated.