Cultural adjustment realities



Cultural Anthropology course
Adjustment realities
Bingo
Bwanda Fusa game
Case studies
Christianity and culture
Course home page
Cross-cultural steps
Culture shock
Ethnocentrism
Exam study guides
FAQs
Kwast's culture model
Light bulb illustration
Missions and culture
Monoculturalism
My own culture shock
PowerPoint presentations
Reading report
Research paper topics

Ways to ruin mission trips

One of the realities of living in Mexico is that waste water pipes are smaller than those used in the U.S. That means that Mexican plumbing systems are more susceptible to blockages than are U.S. systems. Therefore, most people in Mexico toss toilet paper in a trash can rather than flushing it.
After one Commission Unto Mexico trip, a young lady sent this note to leader Howard Culbertson: [ more on "Commission Unto Mexico" ]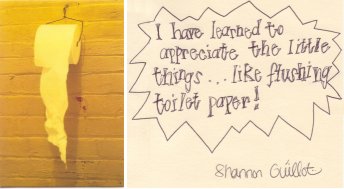 Other cultural adjustment resources
SNU missions course materials and syllabi
Howard Culbertson, 5901 NW 81st, Oklahoma City, OK 73132 | Phone: 405-740-4149 - Fax: 405-491-6658



This work is licensed under a Creative Commons Attribution 4.0 International License. When you use this material, an acknowledgment of the source would be appreciated.