Home page Site search Site index
Rev. Susan Norris Fitkin
1870-1951
"We never test the resources of God until we attempt the impossible for Him."
-- Susan Fitkin, quoting F.B. Meyer
Susan Fitkin, the subjet of this biography, was a key person in creating the missions passion, vision and zeal that characterizes the Church of the Nazarene. An early Nazarene leader, she gave of her time and personal funds to promote global missionary work. Her zealous efforts helped propel the Church of the Nazarene into being one of the major missionary-sending denominations.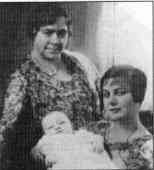 Susan Fitkin, her daughter-in-law and grandson
by Melodie Sides, missionary to Argentina and former SNU student
Susan Norris, born in Quebec in 1870, always wanted to be a missionary. Once when she was a small girl riding around the lumber camp with her father, she witnessed a disturbance among some of the Indian workers. When she returned home, she asked her mother why the men were "so mean."
Not satisfied with her mother's explanation that liquor made people behave like that, Susan asked, "If it makes them mean, why do they drink it?"
"I guess they don't know Jesus," her mother replied.
"Someone should tell them about Him!" came the response from young Susan (York 17-18)
So, Susan Fitkin grew up with a burden for the lost. In her early years she took that burden to mean that she would someday go overseas as a missionary. Then, at the age of fourteen, she became very ill. Diagnosing her with cancer, the doctors predicted that Susan Fitkin would not live very long. During the next two years she was almost constantly in bed, but it was during that time that she truly came to a saving knowledge of Jesus. Some time after she was saved, she had a dream of Christ's Second Coming. She was intensely happy until she saw that all the people that would not be going to heaven. When she woke up, she wondered why she had such a sad dream. Then a voice seemed to quote Mark 16:15 to her: "Go ye into all the world, and preach the gospel to every creature."
Because Susan thought this was God calling her to be a missionary preacher, she was excited! Then, when she eventually applied to be a missionary, she was turned down because of her health condition. That was puzzling to her. One day while reading her Bible, Susan came across Ezekiel 3:5 and the words jumped out at her: "For thou art not sent to a people of a strange speech and of an hard language." Though Susan Fitkin accepted this to mean that she was not going to go to a foreign land as a missionary, she didn't know what to do. She had been planning on being a missionary for such a long time!
She ended up going to a Bible Training school for future missionaries. While there, she was physically healed from her cancer. After graduation, she took a position as a local church pastor in Vermont. While in that position, she was sanctified during a preachers' meeting. While pastoring that church she also met her future husband, Abram Fitkin. After their marriage in 1896, they became traveling evangelists together. Then, they moved to a small town in New York and started a church in an old blacksmith shop. Wherever she spoke, she encouraged the people to take good care of their missionaries.
After Susan and her husband began traveling again, the churches in their denomination, the Association of Pentecostal Churches of America, allowed her to form a denominational missionary society. Then, in 1908 when her own denomination joined with two other small ones -- the Holiness Church of Christ in the south central U.S. and the Church of the Nazarene in the West -- to form a single denomination, they failed to establish a foreign missionary auxiliary to serve the united group. The beginnings of such a group had to wait seven years until 1915. When the missions promotional organization that is now called Nazarene Missions International) was finally formed, Rev. Susan Norris Fitkin was elected its first General President. She held that position for the next 29 years, stepping down only when she retired in 1948 (Parker, 73).
During long her tenure as General Mission President, Susan Fitkin "traveled the foreign fields more extensively than any church . . . leader among the Nazarenes" (Perkins, 75). One reason she was able to do that was because she usually paid her own travel expenses from her husband's successful business ventures.
S.N. Fitkin (the name she often went by in print) was a woman of prayer as well as a great organizer. Fusing those two gifts together, she enabled Nazarene global outreach survive the Great Depression. Susan Fitkin fed Nazarenes information from her own travels and from correspondence she received from missionaries. She kept the missions mobilization work organized, inspiring American families to give to missions even in the midst of their economic struggles. She encouraged believers with sayings like: "Depend on God to see us through" (Perkins, 76) and "We never test the resources of God until we attempt the impossible for Him" (Perkins, 77).
Susan Fitkin never realized her early dream of going to a foreign country as a career missionary. However, in Fred Parker's 1985 comprehensive history of Nazarene missions, this remarkable lady is credited as a major player in sending out 1,763 other people as missionaries (the total number of career missionaries that had served under the Church of the Nazarene through 1985) (Parker, 642). Indeed, Susan Fitkin was the key person in starting and establishing the missionary mobilization and promotion arm of the Church of the Nazarene. Her enthusiasm and love for the lost around the world had been clearly translated into missionaries and other resources to reach these people.
Works cited
Parker, J. Fred. Mission to the World. Kansas City: Nazarene Publishing House, 1988.
Perkins, Phyllis. Women in Nazarene Missions: Embracing the Legacy. Kansas City: Nazarene Publishing House, 1994.
York, Mark A. The Girl Who Wanted to Be a Missionary: The Susan N. Fitkin Story. Kansas City: Nazarene Publishing House, 1985.
---
Additional sources not used to prepare this biography
On this site:
Cooley, Steven D. "The Call of Susan Fitkin." Herald of Holiness 74, no. 20 (15 October 1985): 9.
Ingersol, Stan. "Mother of Missions: The Evangelistic Vision of Susan Norris Fitkin." Herald of Holiness 80, no. 1 (January 1991): 44.
Holiness and missions, booklet written by Susan Fitkin in 1940. "Holiness and missions, like Siamese twins, are inseparable . . ."
In book form
Fitkin, Susan Norris. Grace Much More Abounding: A story of the triumphs of redeeming grace during two score years in the master's service. Kansas City, Mo.: Nazarene Publishing House, n.d.
Fitkin, Susan Norris. Over in Old Mexico. Kansas City, Mo.: Nazarene Publishing House, 1929(?).
Fitkin, Susan Norris. Under Tropical Skies Kansas City, Mo.: Nazarene Publishing House, 192-(?)
Fitkin, Susan and Emma Word. Nazarene Missions in the Orient. Kansas City, Mo.: Nazarene Publishing House, 193-(?)
Miller, Basil. Susan N. Fitkin: For God and Missions. Kansas City, Mo.: Nazarene Publishing House, 1949.
Can God still use you if you don't make it to the mission field?
| | |
| --- | --- |
| | How did a young Quaker girl who was turned down for missionary service wind up being a key figure in Nazarene missions history? [ read more ] |

Susan Fitkin's call from God Another Fitkin biography "Holiness and missions" by Susan Fitkin 10/40 Window Searching for God's will? African martyr's commitment Mission trip fund raising Ten ways to ruin a short-term mission trip Wanda Knox biography Brief Nazarene missions history Women of the Bible crossword puzzle PowerPoint presentations used in classes and other venues Nazarene Missions International resources
World missions course materials and syllabi
Howard Culbertson, 5901 NW 81st, Oklahoma City, OK 73132 | Phone: 405-740-4149 - Fax: 405-491-6658



This work is licensed under a Creative Commons Attribution 4.0 International License. When you use this material, an acknowledgment of the source would be appreciated.