Documenting quotes: an example



What's new?

Sample bibliography page

Why a bibliography page?

10/40 Window

Searching for God's will?

Mission trip fund raising

Introduction to Biblical Literature course resources

Many of your college courses require you to submit written research reports. With your oral reports [ read more ] in Intro to BibLit, for example, you must turn in a two- to three-page paper.
In these research papers, you must document your sources for quotes as well as for factual material. Rather than a traditional footnote at the bottom of a page, you may use the APA (American Psychological Association) style in which a brief reference with the author's name and a page number is placed within the text of your paper.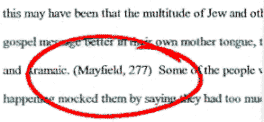 Here is an example of what the documentation ("footnote") looks like. Mayfield is the author who is being cited. The reader can see what the actual source is by going to the bibliography pages [ see samples ] of the paper and looking for "Mayfield."
Citing the Bible
English Bible versions vary in wording. Therefore you need to make clear in your first parenthetical citation which Bible version you're using (italicize or underline the version title), followed by book (do not italicize or underline), chapter and verse.
For example: Ezekiel saw what seemed to be four living creatures,"each with faces of a man, a lion, an ox, and an eagle" (New Jerusalem Bible, Ezekiel 1:5-10).
In all future references, only give the Bible book and chapter and verse numbers, since you've established which edition of the Bible you will be using.
Bibliography entries for the Bible (be sure to indent the second and following lines):


The Jerusalem Bible. A. Jones, ed. Garden City, New York: Doubleday, 1966.
Judges. Holy Bible: New international version. Grand Rapids, Michigan: Zondervan, 1978.
The Bible: A new translation, James Moffatt, translator. New York: Harper and Row, 1954.
Internet sources: How to cite worldwide web material in your papers
Using MLA style formats: How to write papers, including citing material following Modern Language Association guidelines
Memory passage text
| | |
| --- | --- |
| | In BibLit you must memorize three well-known passages of scripture. Need the text of those pages? [ read more ] |
SNU missions course materials and syllabi
Howard Culbertson, 5901 NW 81st, Oklahoma City, OK 73132 | Phone: 405-740-4149 - Fax: 405-491-6658
Updated: February 8, 2019

You have permission to reprint what you just read. Use it in your ezine, at your web site or in your newsletter. Please include the following footer:
Article by Howard Culbertson. For more original content like this, visit: http://home.snu.edu/~hculbert